Blog
ArtBeat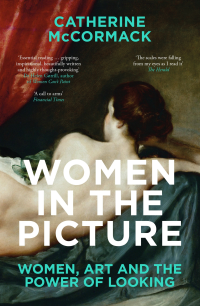 Catherine McCormack's Women in the Picture takes art history and uses it as propulsion into wider conversations concerning art, feminism and the culture of looking. Such conversations seem pertinent in a world authorised by sexual disparity, where the active male possesses the power to look, whilst the female, passive and dispossessed of power, is something to be looked at. This book continues work which has been happening since the 1970s,from writers like Linda Nochlin, Rosemary Betterton and Griselda Pollock. McCormack, in a similar fashion, reaches into the repository of art history to reveal its complicity in female exclusion and denigration.
One of the first examples McCormack uses is Zoffany's The Academicians of the Royal Academy (1771-2). We see these so-called active males as the bulk of the Royal Academy; burly bros in breeches, all periwigs and palettes, participating in something collectively, whilst the two female members are separated from the action; the problem of their presence alleviated into pictures hanging on the wall.
In the art world today, women are now present in the rooms where things happen; whether they be in their studios, exhibiting in galleries or leading major institutions; increasing inclusion is substantive and undeniable. Despite ongoing progressions, however, the culture of looking remains steeped in historical forces which subjugate female identity into archetypes constructed by the male gaze. Such archetypes order the four chapters of this book (Venus; Mothers; Maidens and Dead Damsels; Monstrous Women), which, among others figures, include bare-breasted water nymphs, dead, floating Ophelias, sacrosanct Virgin Marys and vengeful deities. McCormack takes such figures and casts a wider net to demonstrate how such ideological constructs persist in our contemporary world. Her observations include Gillette Venus razors, Hollywood waxes, yummy mummies, 'Milfdom' and #MeToo; things which contribute to the control over women's bodies as well as the unrealistic expectations enforced on them, or reflect the sexual violence still rife within our culture.
So what is the way forward? McCormack argues that this lies not in the censorship of images, but in the interrogation of them, using the canon of art history as something not static but able to be reconfigured. From Artemisia Gentileschi, Berthe Morisot, Leonor Fini and Kara Walker, Women in the Picture offers a fresh perspective which spans decades, revealing the complexities which inform our current antagonistic debates about sexuality and objectification; about decolonisation; about gazes, power and the culture of looking.

DETAILS
Women in the Picture: Women, Art and the Power of Looking by Catherine McCormack
Icon Books, Nov 2021, Paperback, $24.99
Available at Scorpio Books