Article
ArtBeat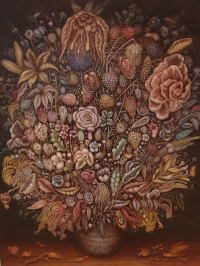 Synonymous for spring: the term vernal was suggested by local Christchurch artist Magdelane Clare and adopted for the Eastside Gallery's annual spring exhibition. The curator suggested that the theme focuses more on surfaces and how different artists have responded to this theme. The exhibition presents varied mediums, including multimedia collages, photography, sculpture, and paintings. At one end of the exhibition space, Linda James' compositions are large-scale acrylics painted onto collaged clothes, at the other Joe Clark's horror-inspired eerie woodcuts and Helene Olivia Smith's smoke-fired stoneware.
Surface immediately becomes recognisably multivalent and aesthetically comprehendible in a multitude of methods. The focus piece on entry to the exhibition is Residue, a multimedia piece from established Christchurch artist Sage Rossie. Residue combines provocative photography and the materials of chains and rocks into the form of a transformative and perhaps challenging sculptural installation. The chains hang in a cobweb, mounted on the surface of the gallery wall stabilised by two rocks on the ground. There is an applicable Māori proverb, ano he whare pungawerewere, used to complement intricate work compared to a spider's web. The constructed irregularities of the web contrast with the linear shiplap in the gallery creating resistance to regular surfaces and forms. The dialogue within the space established through this resistance is intersectional. It interacts with the artist's identity as a non-binary queer artist, furthering the complexity of surfaces, material or metaphorical —the photographs ensnared on the web further evidence the utility of nakedness as a surface for expression.
Different exposures of the metamorphoses of the human body echo renowned performance artists Marina Abramović and Carolee Schneemann. However, there is less attention on the abject. Yet, there is a significant emphasis on genitalia or bodily forms that we might utilise for categorising identities. Another reading is seasonal notions of rebirth, youthfulness, or repetitious creative reproduction.
Other prominent local artists in the exhibition, such as Joe Clarke, Helene Olivia Smith, Linda James, Magdelane Clare, Rebecca Harris and Alix Ashworth also bring enormous value in their interpretation of vernal surfaces. Each artist develops a differing take on what the defining characteristics of vernal and surfaces are constituted by, undoubtedly informed by their own experiences. These artists blend intersectionality and transitionality as they interact with what it means to operate as an artist in Otautahi- Christchurch.
The exhibition Vernal Surfaces opened at the Linwood Arts Eastside Gallery on October 11th and continued to November 5th.

DETAILS
Group exhibition, Vernal Surfaces
Eastside Gallery, 388 Worcester Street
11 October – 5 November
IMAGE
Rebecca Harris, Dubious Flowers II, oil on board, 2021.