Reviews
ArtBeat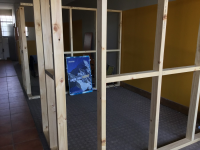 Uncomfortable Silence
How many times have you been to an art exhibition where it becomes evident that art and artists in day jobs distinctly blur lines of focus? It is a theme that comes through in Uncomfortable Silence, a group exhibition curated by Holly Best at the Christchurch Art Gallery Te Puna o Waiwhetū. It is a clockwise parade of eight artists allocated walls and spaces.
At the entrance is an art intervention. An air-filled plastic statement with a full stop: GET IT RIGHT by Elisabeth Pointon. Using air-induced data, Pointon's work was set up in a car dealership in Wellington in 2018. GET IT RIGHT in Christchurch sustains a feisty relationship between art and the public. Outdoor public art during the land art movement of the 1960's included a work by Bruce Nauman, Leave the Earth Alone. It was physically only readable in an airborne state in 2009 within a circle of the arts fraternity. Is that sculpture Pointon's precursor?
Mark Schroder is quite the comedian, spreading an outrageous installation over three rooms, simulating a world of corporate capital, his assemblage is a fictitious holding Company, PROXY.
For Schroeder, the world of corporate pitching is not a clinical strategy, the sensation emanating from the work is the misery of waiting for that 'chance.' Schroeder is described in the gallery's handout as applying an aesthetic to themes positioned between "aspiration and disappointment" - the intersection between Art and Finance and the "modern notions of success and failure."
Meg Porteous is a photographer with elan. Five equally dimensioned coloured photographs of commissioned portraits of the artist, going about the activity of simply being alive. Such an angle is fresh and intelligent, throwing us all beyond the era of photo realism and into a surprising trustworthiness. Porteous takes us directly to astute questions about image, observation, consideration and subject.
A change in mood - Johanna Mechan shows her child's art making activity, as formal studies once removed. This room is a fluent selection of three of her work, an animation of pencils on one wall captivating in its detail and a large square format video of a sleeping child is a study of the rhythm of the human pulse.
Greet the painterly gestures and dazzle and colour of fluorescence and automotive paint of Jayden Plank. Using a range of laser-cut aluminium, acrylic spray paint, industrial paint and raku clay in a set of, 'hang on the wall' objects, Plank's painting is an embrace of art at a brink of becoming and a 'will-be' of shift.
Some works whisper, some seek awe. Look out for Shiraz Sadikeen, Ammon Ngakuru and Clare Logan. Uncomfortable Silence is a wave in time that cannot help but link us into the contemporary. The opening door count on March Saturday 8, 2020, to the Atrium, music and artists live, was four thousand. This site is an event and all are made welcome.
DETAILS
Uncomfortable Silence
Curated by Holly Best
Christchurch Art Gallery Te Puna O Waiwhetū
7 March – 19 July
IMAGE
Mark Schroder, Silver City 2020 mixed media installation
Mark Schroder, PROXY, 2020, mixed media installation