Reviews
ArtBeat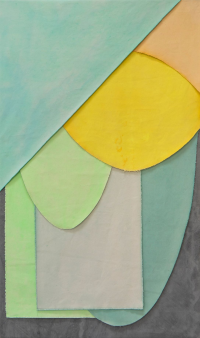 Touching Sight: Conor Clarke, Emma Fitts and Oliver Perkins
Touching Sight is a joyful experience, one of those exhibitions where the gallery visitor can enter without the necessity to begin by reading those texts on the wall, reflecting upon and shedding light on various themes and agendas. Instead, it has a feeling that, at last, the artworks have been allowed to speak for themselves.
Emma Fitts' enquiry into the qualities of her materials and her orchestration of colour and its counterpoints all in conversation with one another are a cumulative treat. Working with acrylic and flashe on canvas, Fitts' geometric abstract images broach a history of painting and fabric design and a presence somewhere between both. They are also the perfect counterpart to Oliver Perkins' wall-relief paintings/sculptures.
As three-dimensional objects, raising questions about the nature of three-dimensional objects, Perkins' works belong to a history of 20th century abstraction that spans Russian Constructivism, (1915 – 1920), British artist Victor Pasmore (1908 – 1988) and in Aotearoa, the wall-relief works of Don Peebles (1922 – 2010). Although described as works that challenge contemporary readings of abstraction, Perkins art is anchored in a history of Western painting. Yet, on this occasion it is given voice through an attitude about making in which the artist's materials get to liberally share the same stage, Perkins' canvases, paint, supports and frames, all democratic components in a series of formalist abstract objects.
If Perkins art seems conscious of a history of Western art, Conor Clarke's pinhole camera "landscapes" are even more so. Working with Ōtautahi's blind and low-vision communities, Clarke's photographs seek out a more generous response than photography's preference for images founded within the documentation or romanticism of their subjects, instead arguing a convincing case for the visual arts as an experience also about sound, smell, feeling and touch.
And if this review of Touching Sight began by acknowledging its strength as an experience that allowed visitor to disregard those accompanying gallery wall texts, Clarke's reconsideration of photographic practices is a highlight thanks to its accompany text, quoting blind and low vision outdoorsman, Steve Delaney's description of Huka Falls - It a marvellous collaboration between Clarke and Delaney. Indeed, Clarke currently seems unstoppable, asking timely and serious questions, not only about her practice as a photographer but also the very currency of Western art and culture.
DETAILS
Conor Clarke, Emma Fitts and Oliver Perkins: Touching Sight
Christchurch Art Gallery Te Puna o Waiwhetū
Corner Worcester Boulevard and Montreal Street
31 October 2020 – 21 February 2021


Emma Fitts, Brushed Mé

lange,

2020, acrylic and flashe on canvas, private collection