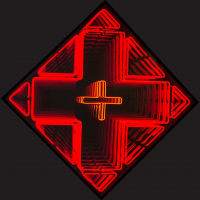 I discovered Aotearoa New Zealand's art history at high school in 1973 through Gordon Brown and Hamish Keith's An Introduction to New Zealand Painting 1827–1967. This is a history which has its origins in the appointment of the country's first professional art gallery directors, Eric Westbrook in 1952 and his successor Peter Tomory in 1956 at the Auckland Art Gallery Toi o Tāmaki.
Throughout the 1960s and 70s, it was taken as given that the Auckland Art Gallery represented a voice for the visual arts that was almost compulsory to pay attention to. For better or worse, that notion has remained with me for nearly 50 years and, with great pleasure that faith in the acumen and authority of Auckland's public gallery came back to me recently, visiting Toi Tū Toi Ora: Contemporary Māori Art. As peculiar as it may sound, I couldn't help but immediately think of An Introduction to New Zealand Painting 1827-1967, even though its use -by date and time was up by the early 1980s.
Why did it come to mind? Because when Colin McCahon was a staff member and deputy director of the Auckland Art Gallery in the mid 1950s he curated a a ground-breaking series of exhibitions and publications that argued modernism was a fundamental means of expressing our experience of life in an increasingly urban Aotearoa New Zealand - even though it did take time for many to catch up with that proposition.
In discussion with McCahon in 1954, Westbrook laid the foundations for the Brown and Keith publication, encouraging the artist to curate the group exhibition, Object and Image, a survey of contemporary art that featured McCahon's paintings and his colleagues, Louise Henderson, Milan Mrkusich, Kase Jackson and Michael Nicholson. Object and Image argued a case for the relevance of European modernism, (and Cubism in particular) representing a public declaration about the relevance of modernity in the lives of New Zealanders. In doing so, the Auckland Art Gallery positioned itself in a leading role, charting the direction and significance of contemporary art in Aotearoa New Zealand.
Curated by Nigel Borrell (Pirirākau, Ngāi Te rangi, Ngāti Ranginui, Te Whakatōhea) and five years in its realisation, Toi Tū Toi Ora: Contemporary Māori Art is a revelation, a survey exhibition of contemporary art from a Māori perspective comparable to McCahon's proposition in 1954 that contemporary art possesses an incontestable presence when it makes tangible the realities and complexities and depth of our experience of life.
Opening 5th December 2020 Toi Tū Toi Ora: Contemporary Māori Art features the work of 110 Māori artists installed throughout the Auckland Art Gallery's exhibition spaces, linking generations of artists through Te Kore, the creation story. As the Auckland Art Gallery's curator of Māori art Borell maintained, Te Kore is the 'one thing that we as Māori all had in common… it became the elemental way of introducing a conversation about contemporary Māori art,' and this is reiterated in the experience of walking through the exhibition and the selection of artists and their works.
The giveaway catalogue that accompanies Toi Tū Toi Ora: Contemporary Māori Art similarly encompasses the tangible realities of life, back-grounding colonialism, Black Lives Matters, a Māori perspective on relationships between Māori and Pākehā, an account of the Waitangi Tribunal's establishment, the 1981 Springbok tour and the emergence and significance of contemporary Māori film in the 1990s as a voice distinct from that of Pākehā artists. The catalogue concludes: 'The work of Māori artists in this realm has opened new spaces that are not colonised by the agenda of others and these artists have been free to pursue, reflect and construct their own worlds'.
Yet, in view of such commentary, it seems surprising to hear of the relatively recent departure of Borell from the Auckland Art Gallery's staff and the public discussion between him and the gallery's director Kirsten Lacy. Reporting online in The Big Idea, Mark Amery commented on the wider context of Borell's departure beyond the personalities: "An important line is being drawn here, as an assertion of tino rangatiratanga that demands that our institutions deal with how they share power to better reflect Māori values. And it again highlights the relative lack of Māori in positions of power in our cultural institution."
Indeed, just as Westbrook and Tomory supported McCahon at the Auckland Art Gallery, as curator of Māori art, Borell was due the appropriate support, encouragement and authority from the Auckland Art Gallery's management team. Toi Tū Toi Ora: Contemporary Māori Art speaks with a voice that is impossible to ignore and I would trust that the Auckland Art Gallery reflects on how to sustain the influential intelligence of its voice for the visual arts in Aotearoa New Zealand going forward from Toi Tū Toi Ora: Contemporary Māori Art.
DETAILS
Toi Tū Toi Ora: Contemporary Māori Art. Auckland Art Gallery Toi o Tāmak, 5 December 2020 – 9 May 2021
IMAGE
Robert Jahnke, Ripeka whero from the Te Ripeka series, 2015. Auckland Art Gallery Toi o Tāmaki, gift of the Patrons of the Auckland Art Gallery, 2018