Reviews
ArtBeat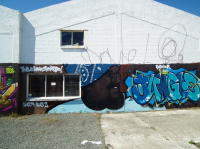 The Streets Speak…
Reuben Woods
Graffiti and street art have always inherently been acts of communication. Through a pair of tragic and unexpected events, March necessitated some reflection on this aspect of urban art. While the Christchurch Terror Attacks immediately gained international attention, the passing of Christchurch graffiti legend Jungle (Leon Te Karu) evoked a heartfelt response that has played out more specifically among the graffiti community here and further abroad.
A true king of Christchurch graffiti, Jungle exerted a massive influence on a culture now firmly embedded in the city's creative fabric. Ikarus, himself a veteran presence, quickly admits that without exaggeration, if not for Jungle, there would be no Lurq, no Pest5, no Dcypher, no Freak and no Ikarus (indeed, Jungle's influence deserves a dedicated and entirely separate discussion). In the wake of his passing, Jungle's importance to graffiti culture has been illustrated by the sheer number and wide-reach of tributes painted in his honour, from full blown pieces, to characters and annotated remembrances, stretching from the streets of Christchurch to Australia, Chile and the U.S.
Such tributes highlight the memorial traditions of graffiti, where writers can stay within the defining elements of the signature-based culture, and in doing so, honour the legacy of influential figures.
The Christchurch Terror Attacks provide a different discourse, and will likely have a different relationship to graffiti and street art. In the wake of the attacks, there has been a public outpouring of grief and gestures of support, with memorial spaces filled with flowers and handwritten messages. But at the time of writing, outside of a number of dedications by graffiti writers, the political potential of urban art had not fully manifested. If graffiti writers are able to harness the letter-form focus to write name-based tributes or make declarative statements, the culture may not be best suited to (nor concerned with) the more difficult conversations we now face (indeed a sentiment we all face in the wake of these events).
Street art practices, in their more traditional forms of painting, stencils, installations and postering, have generally been more focussed on social issues expressed through acerbic humour and iconographic visual language. Will Christchurch's streets be utilised in such a manner? With the harnessing of muralism as a city-building tool, will the Terror Attacks provide a discourse to utilise the streets as a site for commentary in more subversive materialisations? Has the post-quake atmosphere that encouraged political conversation subsided, or will a new wave of discussion be activated?
IMAGES
Jungle Tribute by Dcypher, Los Angeles. Photo Credit – Dcypher
Jungle Tribute by Wongi 'Freak' Wilson and Ikarus, painted in Sydenham, photograph: Millie Peate-Garratt