Article
ArtBeat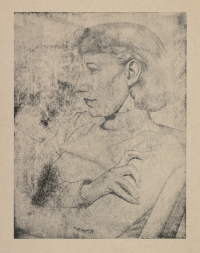 Extraordinary at Tūranga - From a panoramic 1923 view of Manchester, High and Lichfield streets to a sketch of Rita Angus
Celebrating its centenary in 2020, the Alexander Turnbull Library, Wellington is touring Extraordinary to Tūranga, an exhibition of selected taonga from its collections that includes 19th century sketches of Canterbury and Christchurch, and photographs of the central city in the early 20th century. Described by the Library as a touring exhibition "inspired by the people and landscapes of Ōtautahi," it represents a history of local hapū, English settlers, photographers, writers, composers and artists, sketchbooks, journals, watercolours, music scores, letters and mid-19th century children's paper cut outs. Yet, as comprehensive as it may seem, Extraordinary reveals only a small fraction of the extensive collection of the Alexander Turnbull Library, founded on the estate of Wellington merchant, bibliophile and collector Alexander Turnbull (1868-1918).
With a particular interest in Ōtautahi Christchurch, the exhibition takes in a number of works by the city's artists, including painter Rita Angus (1908 – 1970) and typographer for the Caxton Press, painter and printmaker, Leo Benseman (1912-1986). During the mid-1930s, both artists are now considered to have been at their most inventive and challenging, being in regular contact and proximity to one another through Bensemann's studio at 97 Cambridge Terrace. Acknowledged as a hub and centre for contemporary art and an emerging modernism in New Zealand, they belonged to a circle of artists that also included Louise Henderson, Olivia Spencer Bower, Denis Glover, Douglas Lilburn and Evelyn Page.
Interested and inspired by the international influence of Art Deco and design, both Angus and Bensemann shared much in common, an eclectic taste in ancient cultures, Japanese, Chinese and medieval art informing the contemporary nature of their practices throughout this decade, (look no further than Bensemann's portrait of Angus, Cleopatra, 1938).
The proof from a photo-engraving block reproducing an original drawing of Angus by Bensemann that features in Extraordinary, art historian and Angus biographer, Jill Trevelyan, comments on Bensemann's scrupulous observation of Angus; 'a sensitive and immensely skilful drawing which is also a remarkable likeness.' Christchurch Art Gallery curator Peter Vangioni also observes: 'The result is a drawing of outstanding quality, providing an incredible portrait of one of New Zealand's most significant artists.' It seems surprising with such an evident commitment to recording the artist, Bensemann's plans for the finished painting were never realised.
In Extraordinary, the portrait complements other works by Bensemann from the same period, a painting of Christchurch poet Denis Glover, (writer and friend of Bensemann's from his time with Caxton Press), widely recognised for the vernacular nature of his poetry, its subjects and turn of phrases, evident in poems like The Magpies, (1964). It is a portrait that is believed to have been exhibited in Christchurch at the Canterbury Society of Arts Gallery in 1937, with the elegant figure of Glover listed in the exhibition catalogue anonymously as 'Portrait of a Young Man.'
Bensemann is also represented by by Angus from her time as a graphic designer for Ballantynes' department store.
Extraordinary, works from the collection of the Alexander Turnbull Library, Tūranga
60 Cathedral Square Christchurch, Mon-Fri 8am-8pm Sat-Sun 10-5-pm
Until 27 January
IMAGE
1. Leo Bensemann, Portrait of Denis Glover, oil on canvas board, Collection of Alexander Turnbull Library, Wellington
2. Leo Bensemann, Portrait of Rita Angus, (c.1952), giclee reproduction of original hand-pulled print. Leo Bensemann Collection, Alexander turnbull Library, Wellington, NZ