Article
ArtBeat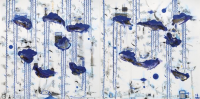 Polynesia and the Pacific region, and migration and belonging are allocated centre-stage in Te Wheke Pathways Across Oceania, an exhibition that draws from works in the Christchurch Art Gallery Te Puna o Waiwhetū collection. It is exciting and enlightening experience developed by the Gallery's curators in consultation with curator of Cook Islands heritage, Stephanie Oberg.
Yet, in many ways Te Wheke Pathways Across Oceania is not entirely unanticipated or without precedent. Since its reopening in December 2015 the Gallery's permanent collection has assumed a new-found life, rediscovered by its curatorial team who seem committed and excited about new ways of thinking about and experiencing favourite works.
Lead curator Felicity Milburn acknowledges that like previous re-hangs of the collection, Te Wheke Pathways Across Oceania is about doing something that feels quite different. Gallery director Blair Jackson gave the curatorial team (Milburn, Ken Hall, Nathan Pohio, Peter Vangioni and former Head Curator Lara Strongman) the challenge of addressing and rethinking what had become a familiar experience of viewing the collection, beginning with its historical European works and working your way towards the contemporary. Milburn comments: 'We really wanted to re-imagine the Gallery's spaces and we were also keen to bring in different perspectives. We were especially conscious that Māori and Pasifika artists' work was under-represented in the collection and we really wanted to address that. Te Wheke became a catalyst for increasing that diversity through some really important acquisitions.'
Throughout this process, Milburn was aware of the tension between the desire of many Gallery visitors to see change and experience new works in the collection and the expectation of others to see familiar works – "old friends" that they wish to come back to. 'It is always a challenge to do both those things at once. Like most public collections in Aotearoa New Zealand, the Christchurch Art Gallery's had its origins in European works, particularly British works. The narrative of how those connections shaped our art history and subsequently led to the development of a New Zealand style has been told often, and we have frequently told it here from a Canterbury perspective, with regard to artists like Rita Angus.'
'It's not the only story we can tell though, and for Te Wheke we wanted to see what would happen when we looked at the collection from another perspective, starting where we actually are, here in the Pacific. How could art help us make connections right across Oceania?'
'Over the last few years, we've tried hard to unpick some of those very linear narratives about New Zealand art history. For example, we've done that in relation to gender, reinserting female artists who played an important part in the development of our art history, but have been overlooked in its retelling, perhaps to make a more cohesive story. When histories are simplified or considered from only one perspective, you can lose a lot. For Te Wheke Pathways Across Oceania we wanted not only to feature those new works, but to incorporate familiar works people expect to see by presenting them in a different context.'
'Like most public art galleries in New Zealand, we don't have a strong collection of customary Māori and Pacific art – traditionally that has been collected by museums, which in itself reflected the attitudes of the time. We saw real value in undercutting that artificial separation by juxtaposing the contemporary with the customary. We've needed the support of private collectors and institutions like Canterbury Museum to help us do that by generously lending some very significant pieces.
We were very lucky to be able to work with Stephanie Oberg on the exhibition's conceptual development, configuration and interpretation. She brought not only her connections with Pacific communities within Christchurch, but wide knowledge and a different perspective. She helped us to look outside more traditional art histories and we found that really valuable.'
The new, central entrance to Te Wheke Pathways Across Oceania takes the gallery visitor into a space titled Hawaiki Tautau Atu, Hawaiki Tautau Mai: A Distance Draws Near. It's a beginning that Milburn says is very much about honouring ancestral Polynesian homelands and early migrations across the Pacific: 'Migration and a sense of belonging are themes that occur right across the exhibition. What you bring with you when you travel from one place to another, what you leave behind. What you create when you get here. Many of the artists in this show are creating hybrid forms that couldn't have been made anywhere else but in Aotearoa New Zealand '
'One of the things that was important to our thinking around the show was acknowledging that the Western concept of a separation between past and present that can exist in a Western experience of the world isn't necessarily part of the Māori or Pasifika world view. Instead, the past walks with you in the present. That's something artists make real all the time,when their works connect past and present on an equal plane – and some works in Te Wheke do that really explicitly.
'We are the Small Axe is a major new acquisition, a huge collaborative bark cloth work by Robin White (Aotearoa New Zealand (Ngāti Awa) /Kiribati) and Ruha Fifita (Tonga/ Aotearoa New Zealand). We are all pinching ourselves, it's amazing to have this work in Christchurch and in the collection. Robin, a New Zealand artist of Māori and Pakeha heritage went to Kiribati in the early 1980s where she pursued her own arts practice, but was also interested in the art making being done in the villages, particularly by groups of women working together. That's something that has continued over her practice in a range of places around the Pacific.
'In recent years, Robin did a series of collaborations with Ruha, a young Tongan artist who grew up with the Tongan tapa tradition, ngatu. They are both interested in creating a new, hybrid form, honouring not only the physical technique involved in this kind of art making but also that sense of working communally and the idea that culture is passed down, not in big conversations, but in little, intimate ones. Tapa of course is often made for special occasions – a wedding or a really important meeting – so that sense of connection and communal purpose is intrinsic. This work has many domestic references [teapots, jars and jandals] but also relates to migration – the eels are the kind that travel vast distances. The title, We are the Small Axe, relates to a song by Bob Marley and the Wailers, "Small Axe." It brings in the idea of grassroots protest, 'we are the small axe and we will chop you down'.'
Grace Ngaputa Pera's Matirita [chrysanthemum] is an amazing tivaevae work on loan from a local collection. One of the lovely things about Te Wheke Pathways Across Oceania is that it will unfold in several iterations. There are lots of works on paper that we will swap out, and the tivaevaewill be changed so we will see different works come in.'
'We wanted to undercut the idea of separation between customary practices in the Pacific and the conceptualism that we often mistaken attribute only to a Western idea of art making. Kelcy Taratoa, [whose mural, Te Tāhū o ngā Maunga Tūmatakahuki is on the outer east wall of the Gallery as a welcome to Te Wheke Pathways Across Oceania] talks about customary work and its symbolism and that is one of the things that we have lost in the narrow colonial reading of those customary practices, that depth inside them and their richness. The people who were documenting them in the 19th century were looking from outside the culture and so they recorded things like whakairo as patterns rather than as objects that had important meanings embedded in the shapes that were chosen.'
'John Pule's Not of this Time (Dreamland), is an abstraction of forms, something we're familiar with seeing in contemporary work but often miss in customary works. (page 1). The blue spaces in Not of this Time (Dreamland) can be an ocean, with islands, but John has also talked about it being like clouds forming a huge big sky and as a space of imagination. What is particularly lovely about John's work is it is often about this sense of connection. Vine-forms connect across the work, linking people and places across time. That's an idea that goes right through Te Wheke: Pathways Across Oceania.'
DETAILS
Te Wheke Pathways Across Oceania,
Christchurch Art Gallery Te Puna o Waiwhetū
Cnr Worcester Boulevard and Montreal Street
Until 23 May 2022,
IMAGES
Grace Ngaputa Pera Matirita [chrysanthemum]1958. Tivaivaitataura. Collection of Pera family, Christchurch
John Pule Not of This Time (Dreamland), Oil on canvas. Collection of Christchurch Art Gallery Te Puna o Waiwhetū, purchased 2019