Reviews
ArtBeat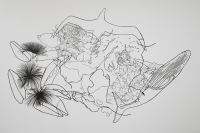 Emily Parr (NgāiTeRangi, Moana, Pākehā) invites us to contemplate oceans , not as tools for separation as they are so often conceived, but as connecting spaces; environments for relationships and belonging.
Through her 35mm film photographs and drawings on the walls of The Physics Room, Parr unravels the dichotomous intimacy that a vast body of water can evoke when understood in the light of connection. Whāingaroa, the introductory photograph, captures a familiar moment of contentment shared amongst friends in water, a feeling of harmony with the environment and those around you. For many, there is something special about floating in the moana, sun shining down and needing nothing else from that moment but for it to continue for a little longer. In the middle of a rainy Ōtautahi winter, the warming memory of a summer swim with friends is enough to make you pleased you visited Parr's show. This sense of affection is continued throughout Surfacing, as she explores ideas of history, connection and belonging.
The artist feels at home with the ocean; a descendant of Tauranga Moana, Tonga and Samoa, she also draws on the ancestry of Europeans who travelled across the seas to the Pacific – a journeyed genealogy with deep connections to the world's oceans. Parr is undertaking PhD research inspired by Paikea(humpback whales) with whom she shares this history of belonging to the ocean. Responding to a deep instinct within themselves to move fluidly between places, (belonging to the 'everywhere' of international waters), the Paikea hold an inconspicuous presence in Parr's photographs; traces of their existence clear but their form hidden beneath the water's surface.
The Paikeais revealed in Parr's generously painted whakapapa. Expressing the complex and abstract concepts of history and genealogy through a striking, weaving acrylic mesh, Parr has marked the gallery walls with her history. Drawing on toroa (albatross), Paikea and Sāmoan 'oli (red, scented flower), Parr rejects the conventional 'family tree'. Rather than identifying the linear correlations between people, Parr explores the space between: the journeys and the relationships.
At its core, Surfacing explores the notion of relations, not only to one another, but to our environment, our collective past, and to our individual histories. In a time when the world feels both further apart and closer together than ever before, Parr's exploration of connection feels timely and comforting.
DETAILS
Emily Parr, Surfacing, The Physics Room, 301 Montreal Street, Christchurch, 31 July – 5 September
IMAGES
Emily Parr, Surfacing(installation view), 2021. Photo: Janneth Gil.