Article
ArtBeat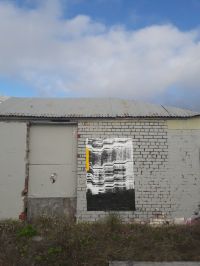 Art in the Age of Closure
The impact of the Covid-19 pandemic and the resulting lockdown period saw the inevitable closure of cultural institutions. Exhibitions have been kept captive and concerts and performances cancelled or postponed. Of course, there are efforts to digitise experiences, online access to shows and streamed performances providing a proxy encounter from our homes (or bubbles to use the new terminology). The importance of the arts is once again clear in a difficult time; not only in our consumption of films, books, songs and more, but in people busying, distracting or soothing themselves by making things. Much like the post-quake period, this compulsion to make and do has extended to public gestures, with messages appearing on fences and footpaths and with these acts of expression, a reminder of urban art's ability to adapt in new environments.
Not reliant on institutional or interior forums, or even the logistical necessities of large-scale public art projects, graffiti and street can still thrive, their largely solitary creation a benefit in the time of social distance. Indeed, the quieter streets provide a favourable setting for intrepid guerrilla artists to operate, both in their traditional locations and in new spaces.
Moreover, the ability to participate without invitation is another attraction, compulsion to act the only requirement. While the potential audience may be smaller, public interventions still provide direct engagement; small moments of connection and possibly reflection as people walk, cycle or skate their neighbourhoods.
On my daily walks over the last week I have not only reconnected with existing additions, but discovered the fresh presence of stickers on utility boxes, giant collaged paste-ups on empty buildings, painted slogans and graffiti with a community-minded message alongside its egocentric tradition. Social media has filled in some gaps on what has been found in those enclaves outside of my socially responsible perimeter, but I am left to largely wonder what other people are finding.
Yet, it is not just the practical potential of urban art that has been made clear in this environment. Post-graffiti art has traditionally utilised graphic and conceptual simplicity to communicate ideas, favouring accessibility. While some artists may require more time to navigate the issues created by this period of pandemic and isolation and specific environments in which to present them, urban artists have been quick to respond, stencilling lovers kissing through their respirator masks, depicting heroic health workers or sloganeering about how this may bring about the end of capitalism. Even graffiti writers, so often self-involved have taken to writing COVID-19 in stylised letter forms. There will be more cerebral, more thoughtful and more challenging examples of art produced in response to this experience, but urban art's directness has proven its value in unsettling times and when the lock down comes to an end it will be exciting to see how the streets have spoken.
IMAGES
Dr Suits' large abstract collage paste-up is just one of a number of interventions appearing in the quiet lockdown streets