Article
ArtBeat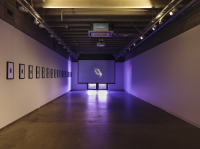 Multidisciplinary duo Steve Carr and Christian Lamont bring a moving immersive experience to Ōtautahi with Fading to the Sky. First exhibited at Te Uru Waitakere Contemporary Gallery in 2020, this collaboration is reimagined for CoCA Centre of Contemporary Art Toi Moroki's Summer Season, casting new light on intimate conversations of loss, environment, and temporality.
The architecture of the Ō Papa Ground Floor Gallery is transformed through changeful intervention. Stained fingers of natural light slant through reclaimed windows, animating the space in a dusky purple hue that shifts with the passing hours, a glow in the wound.
This cinematic effect draws upon Christian Lamont's postgraduate practice, and a time spent apart from family in Australia through the final year of his studies. Glimpses of the gel-tinted world beyond offer means of navigating a landscape coloured by absence. Red spur valerian ripples behind violet glass, unearthly, luminous.
Moving images stir in shadowed corners, echoes of human mood and movement made alien. Single-channel films weave unhurried hypnotic environments. Within the trance-like pull of these pieces, audiences are provided sensory spaces for projection, absorption, and personal revelation.
In the low light, Steve Carr's photographs require you attend them carefully. A series of stills pose arresting embodied moments; details are gradually revealed, locating the viewer as uncertain onlooker to a place of private understanding. The fruit of a McCahon House Residency in January and March 2020, images document a performance from a period of irrevocable change and uncertainty - widely felt resonances of the global pandemic coincided with the diagnosis of Carr's mother with lung cancer, and her passing in April of the same year.
From an artist long concerned with controlled methods and outcomes, the enactment (captured by Carr's wife Anna during their time in Titirangi) possesses an organic intimacy, and unmediated feeling that is poignant and unexpected. The sequence extends along the left wall, a storm-shot horizon or high tide line, film of a waxy sculptural form, apple core or honeycomb, spins numbly on its axis.
The exhibition is a timely consideration of light and atmosphere, interwoven with shared narratives of loss and reflection. Fading to the Sky conjures a moment of communion with beloved dead, and distant family and friends, a seasonal sorrow in the late heat of Aotearoa's tentative reconnection.
Looking back as we descend from this wine-dark underworld, we do not leave our shades behind, but gather them closer.
DETAILS
Steve Carr and Christian Lamont, Fading to the Sky
CoCA Toi Moroki, 66 Gloucester Street
26 October – 12 February 2022
IMAGE
Steve Carr & Christian Lamont's Fading to the Sky, (installation image). The work was originally shown at Te Uru Waitakere Contemporary Gallery in 2020. Image courtesy of the artists and CoCA. Photo: John Collie