Article
ArtBeat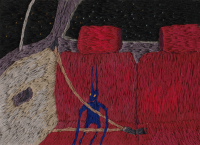 Based in Ōtatahi Christchurch, Saskia Bunce-Rath's embroideries are about their connection to a global history of painting and ancient and future worlds in which humanity is mythological, personal and familiar.
In April she opens an exhibition of new embroideries and textiles at City Art Depot, which she describes as 'thread in a painterly way.' She notes that as an undergraduate painter at Elam School of Fine Arts she was struggling to find her voice as a painter/artist. She completed her Masters at the Ilam School of Fine Arts and she recalls that while still seeking out her voice as a painter/artist , 'I remember being at the Rudolph Steiner School and loving embroidery. I At Ilam I took one of my paintings and recreated it in embroidery. Showing it to another post-graduate, Emma Wallbank, in the studio next to hers it was warmly received.'
Bunce-Rath says that she doesn't have a studio at home, but 'sits in bed and makes her works, looking and thinking about them. I have recently done a much larger work, three times the size of my smaller works (approximately 20cm x 15cm), and I am not sure how people will respond to it, but there is something that happens when my works are on the wall to the vividness of their colour.'
She also makes a connection to her embroidered work and Post-Impressionism paintings by Vincent Van Gogh and Paul Gauguin. 'I was overseas in Europe and I saw their paintings. I was in Amsterdam and also in England for the year and exposed to this massive canon of art history. I like Van Gogh's compositions and his interiors, his bedrooms are wonky and strange and I have picked up on that in my works. I love Gauguin's compositions and the way that he places his hills and his long skinny trees in his painting, and the mountains in my works are inspired by those in Bill Hammond's paintings. '
Although inhabiting mythical or futuristic worlds, Bunce-Rath's the subjects in her works are also contemporary commentaries. 'When making the first ones, I was feeling very anxious about climate change. I was creating this imagined future world and these creatures wandering in this strange world in the future. For the exhibition coming up I am going back to present time. I have taken the figures inside into their bedroom and I have one working on a computer. It's about conjuring feelings of nostalgia and wonderment.'
DETAILS: Saskia Bunch-Rath, a thin star wind grows, City Art Depot, 26 April -15 May.
IMAGES
1. Saskia Bunce-Rath

the forest hours shaking through,

embroidery thread on calico fabric, 2023

Saskia Bunce-Rath - sleep carves warm under the pelt, embroidery om calico fabric, 2023