Reviews
ArtBeat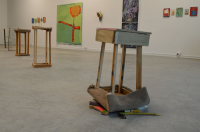 Formication is defined as the feeling of insects crawling across or underneath your skin, and from the perspective of the 'otherness' of Sam Clague's and Gareth Brighton's objects, paintings and sculptures in this collaborative exhibition, it aptly describes the experience.
Formication felt like a strategy and metaphor for an attitude about making, confirmed - for this reviewer at least - in an introductory floor-talk by Brighton, who made note of Clague's recent work and his ongoing curiosity and interest in 'The Sorcerer's Apprentice', from Walt Disney's 'magnum opus', Fantasia (1940). Specifically, it is Mickey Mouse as practicing sorcerer, borrowing his master's magical hat, bringing alive a never-ending supply of brooms to assume his cleaning duties that is central to the context of Formication. It is a notion and principle about the artist's given capacity to bring new-life to inanimate objects, seeing them anew as creatures for fresh and novel ideas - and possibilities about materials and making.
Among the orderly bric-a-brac of objects on the floor by The Den's large street-front windows were small, large, colourful, weathered and disfigured objects from Clague, all seemingly in conversations with one another. It's an installation, literally flat on its back that has everything to say. Brighton rightly comments that it could be read as an abstract-expressionist painting, and it is, as a myriad of conflicting and opinionated colours and materials in a harmony of sorts.
Complementing Clague's window installation were Brighton's makeshift stools, arching and measuring their span across the gallery's floor and curiously, doing so with pointless and purposeful intention. Their presence in the gallery reason enough, confirmed by a sense that their good friends, the paintings and sculptures that surround them on the gallery walls, gaze with pleasure at their animated company.
Formication was an uplifting and joyous occasion, two artists at the top of their game, embracing the pleasure of doing all those things that your parents told you not to, it seemed informed by a kind of 'Gilbert and George' methodology, where humour and profundity were endlessly in conversation with one another.
DETAILS
Sam Clague and Gareth Brighton, Formication
The Den, 181 High Street, Christchurch, 20 April – 1 May
IMAGE
3. Formication, installation, (Gareth Brighton's chairs in foreground with paintings and wall works by Brighton and Sam Clague on walls). Photograph courtesy of Leia Brighton