Reviews
ArtBeat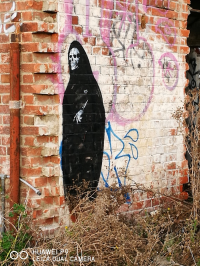 Are We Post Post-Graffiti?
Reuben Woods
The elasticity of the term 'street art' ensures its popular, catch-all currency, inclusive of graffiti, muralism and post-graffiti practices (think stencils, paste-ups, street sculpture, etc.). However, perhaps the most enduring perception is that 'street art' refers to the latter, the swathe of creative tactics that rose to prominence around the turn of the Millennium (although rooted decades prior), following the rebellious example set by graffiti (hence the favour of the term 'post-graffiti'). Indeed, there is a growing trend to historicise the term 'street art' as representative of not only a specific approach to making art in the streets (largely un-permissioned and materially specific), but also of a time-period before the emergence of the curated, commissioned force of contemporary muralism and gallery acceptance. It is on this definition that the phrase 'street art is dead' has become a repeated refrain.
So, why am I ranting about terminology? Recently, I have been thinking about the more recent manifestations of urban art in Christchurch, not just through a local lens, but as a microcosm of the trend of 'street art' globally. While graffiti and muralism might sit at distinct ends of the spectrum, especially for those uninitiated in graffiti writing culture and history, post-graffiti street art has historically occupied a middle ground. Often targeting a broader audience and employing an accessible, iconographic visual language, post-graffiti captured a public audience who may have felt alienated by the codified language of graffiti writing.
In Christchurch, muralism has been embraced and celebrated, while graffiti remains the dominant visual force and sub-cultural stronghold. But, in the wake of the more immediate post-quake swell of paste-up Band-Aids, stencilled stockmen, and sculptural installations, post-graffiti practices have dissipated, despite the growth in artists under the urban umbrella. While never the predominant form in Christchurch's urban landscape, stencils, paste-ups, installations and non-graffiti paintings currently have a minimal local presence, almost invisible compared to the proliferation of tags, throw-ups, pieces and even stickers. Indeed, even the more adventurous examples of Dove's ne'er-do-wells, Hambone's tattoo flash, or Tepid's neon abstractions, fit more aptly into the graffiti landscape than the post-graffiti lexicon.
Is this a result of Christchurch's changing landscape and local street artists' lack of the brazen bravado of their graffiti counterparts? The highly planned cityscape must surely provide some inspiration to post-graffiti artists, even if more obstacles are now apparent. Perhaps artists more inclined to post-graffiti practices are more likely to gravitate towards the new opportunities in the art landscape, choosing studio and commissioned work over the streets.
Has the commercial attraction of muralism, commercial and gallery work rendered guerrilla activity too risky? Is this indicative of a wider trend, where post-graffiti has been usurped by the benefits (and admittedly, the hindrances) of commissioned work in many corners of the globe? While the internet provides infinite flicks of bold graffiti pieces from cities around the world, street art interventions seem less visible. Is post-graffiti street art dead, or will these tactics be adopted by new artists, who might explore new ways to engage with the urban landscape, imbuing them with a new breath of life?
IMAGES
One of artist/designer Mark Catley's vintage Star Wars toy paste-ups in the central city, 2017
Grim Reaper stencil by an unknown artist, central Christchurch, 2019