Blog
ArtBeat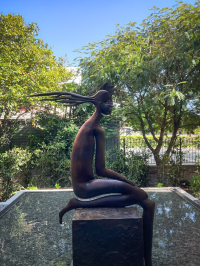 Ravenscar House and Museum opened back in 8 November 2021. I have been twice now. The building and fabulous collection of art, antiques and antiquities were a gift by Jim and Susan Wakefield to the people of Christchurch under the auspices of Canterbury Museum.
It's an unusual thing for Aotearoa. It's technically a house museum, but because the Wakefield's home, the original Ravenscar House, was a victim of the 2011 earthquake, this purpose-built building, loosely laid out in living room/dining room, bedroom, and library, was designed by Auckland-based Patterson Associates who also designed the mirrored Len Lye Centre in New Plymouth. There is, perhaps an echo of that in the mirrored ceiling of the foyer.
The building is as much an artwork as anything inside, reflecting both the brutalism and gothic revival styles of central Christchurch. I particularly love the texture and colour of ground-up brick from the original Ravenscar House, mixed into the concrete. It's something I'd like to see more of in new builds.
There is something for everyone, ranging from ancient Greece and Rome to contemporary art and design. Some of the standout highlights for me include several stunning Frances Hodgkins paintings that I don't think have ever been publicly exhibited previously, a charming Colin McCahon painting of Taylor's Mistake, a striking Toss Woollaston, a spectacular Goldie and equally spectacular Lindauer.
I was particularly taken by the 1990s neoclassicism of the David Linley-designed bedroom suite, and a bronze, fin de siècle satyr bust by Lanzirotti. There's also a wealth of Canterbury art which is always nice to see. It's an eclectic collection and reflects the personal preferences and tastes of the Wakefields, which makes it interesting to see how it's assembled into a context. The displays will be cycled around, ensuring ongoing activation of the space.
Being a house museum, it has its quirks. None of the works are labelled, which is not uncommon for a house museum, though a digital guide is available to be downloaded to one's phone. On the other hand, you can make a guessing game of it and exercise your art-historical knowledge.
Admittedly the admission charges are on the high side: $25 for an adult and $20 for students and seniors. For the committed art buff it's definitely worth it to feast the eyes and it does all go to the upkeep of the museum. All in all, a welcome addition to the city.
IMAGE
Paul Dibble, The Long Wait, 1998,cast bronze