Reviews
ArtBeat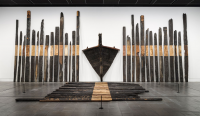 Based on a spoken response to Black Phoenix (1984-88) by Honey Brown as part of Te Puna o Waiwhetū Christchurch Art Gallery's public programme 'Hotere 101'.
My people are a phoenix, living on through the generations that are, have been and are yet to come. I live today, facing the future, with my eyes on the past, reminded of my Tupuna and how I carry them with me.
Ka hinga atu he tete kura, ara mai he tete kura. When one red frond falls, Another red frond rises to take its place.
This whakatauki, inscribed into the burnt timbers, really resonates with me. It is a reminder that although objects, people, and places are not permanent, what is permanent is continuation itself.
Surrounded by this large collection of works by Hotere in Ātete, I see me and my people; our truths, our struggles, our strengths and stories. Hotere used his art as a language of protest. Art allows us to speak freely – words are no longer a barrier. This exhibition is proof that our voices are not just an echo in the background of white noise, but a siren that commands the room.
Communication, like time, is slippery. Art can be a conduit between artist and audience, each bringing to it one's individual thoughts, feelings, emotions and understandings – bringing past, present and future into one conversation.
For me making art is the only language I know where I don't feel any sense of shame, or guilt, or mamae. It is a language where I grant myself control over what I want to communicate to people.
While I am often met with my own insecurities in my practice, I know I'm in good company. Reminded of artists like Hotere, I hear my voice as part of a choir of those who have come before me, those who stand beside me now, and those who are yet to come. Like a phoenix my people have been resurrected through continuation just as Hotere, his voice and wairua will continue through his artworks and through the artworks of those he has inspired.
DETAILS
Ralph Hotere, Ātete (to resist)
Christchurch Art Gallery Te Puna o Waiwhetū, corner Worcester Blvd and Montreal Street, Christchurch 27 March – 25 July
IMAGES
Ralph Hotere,Black Phoenix, 1984 – 1988, burnt wood and metal. Collection of the Museum of New Zealand Te Papa Tongarewa, purchased 1988 with Maru Buick Bequest funds