Reviews
ArtBeat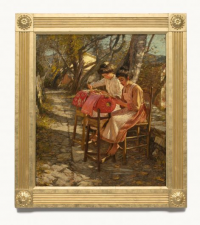 While the permanent collection displays are being refreshed at the Christchurch Art Gallery Te Puna o Waiwhetū, there is still an opportunity to view some of the Gallery's best-loved paintings in the ongoing exhibition Persistent Encounters. The exhibition explores some of the recurring subjects and themes within the Gallery's historical collection, while tapping into events and experiences we encounter in our own lives.
Spending prolonged periods of time at home is something we are now all too familiar with and domesticity, home life and even interior design are the focus of several works including Francis McCracken's vibrant Tulip Still Life, 1931 and the gorgeous A Blue Room in Kensington, c.1928, by English artist James Durden. (It is a wonder we have not seen this work on display more often.) Hanging nearby is Jacqueline Fahey's more recent The Portobello Settee (1974). All three paintings feature sumptuous patterns and vases brimming with bright flowers, while the pops of striking pinks and reds in Fahey's work are echoed in McCracken's. Seeing these works hung altogether and so soon after extensive time spent in our own homes was an unexpected coincidence. Domesticity and childhood are touched on elsewhere in works such as Harry Linley Richardson's Cynthia's Birthday (1926 – 27).
Women's work and domestic tasks are referenced in Thomas Benjamin Kennington's Relaxation 1908, a portrayal of Edwardian milliners taking a break, and Henry H. La Thangue's charming, Making Ligurian Lace, c.1905, a personal favourite. Relaxation is set off beautifully through its placement alongside Petrus van der Velden's Burial in the Winter on the Island of Marken [The Dutch Funeral], 1872. Both images capture aspects of everyday life and share similar palettes of muted tones and whites. Alongside The Dutch Funeral is van der Velden's poignant An Old Fisherman, c.1892.
Lust and romantic pursuit are the themes of several other works including Henrietta Rae's Doubts, 1886, and Jacopo Amigoni's eighteenth-century Rococo Bacchus and Ariadne, 1730 – 39. Soft pastel colours have been used in both paintings and the basket that lies on its side spilling flowers in the foreground of Rae's work recalls the terracotta pot that has toppled over in Amignoni's image.
Meanwhile, the themes of the fallen woman and loss of virtue are implied in George Leslie's In the Wizard's Garden, c.1904. (Viewing this work alongside George William Joy's tender and rarely seen Reverie, 1887, reinforces the potential for a long-awaited Victorian or Pre-Raphaelite-inspired exhibition in the future.)
Other highlights include Evelyn Page's luminous December Morn [Summer Morn], 1929, Raymond McIntyre's Study [Woman in a Wide Black Hat], c.1913, and Frederic Leighton's Teresina, c.1874. After viewing all of these paintings, many of which I had studied on numerous occasions, I wondered whether the exhibition's title and theme may also refer to our own regular encounters with the works and how our personal responses to them evolve over time.
DETAILS
Persistent Encounters
Curated by Ken Hall
Ongoing
Christchurch Art Gallery TePuna o Waiwhetū
Cnr Worcester Boulevard and Montreal St, Christchurch
IMAGE
Henry H. La Thangue, Making Ligurian Lace, c.1905. Oil on canvas. Collection of Christchurch Art Gallery TePuna o Waiwhetū, purchased by the Canterbury Society of Arts 1912, with the J.T. Peacock bequest and presented to the city by the Canterbury Society of Arts, 1932.