Reviews
ArtBeat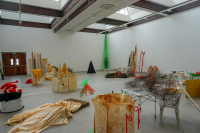 Pauline Rhodes, Time Ongoing
Having been enthralled by Pauline Rhodes work Towards the Light as part of Contemporary Christchurch in 2016, I was excited to see Time Ongoing. A land artist with a practice spanning over four decades, she deserves far more recognition for her ongoing integrity to site, material and adherence to strong ecological values, long before we knew for sure that the world was doomed.
Alighting the stairs into the Mair Gallery, I was not disappointed.
The space opened out before me, awash with a series of installations like flotsam and jetsam - strewn somehow elegantly about the gallery. It's at once a playroom, a studio or the briefly deserted tinkering shed of an old eccentric, just stepped out to get a cup of gumboot tea. A brainstorm, perhaps - each piece a seemingly scattered thought - the cohesion growing the longer you contemplate it.
There's a patina of strange familiarity over everything. A lived-in quality. Ochre-stained plywood assemblages create mountain-shaped silhouettes. There are twisted mounds of fabric - cotton and silk - rust-dyed and salt-stained. A small herd of sawhorses, papered over in text, clustered next to a spindly worktable. Leaning jauntily against the walls, tall undulating MDF forms with eroded edges contrast with red and neon green rods extending like plumb lines up gallery walls. Collage-covered corrugated iron, multiple tangles of toraro and the scent of lanolin in the air - these material identifiers immediately situate the work in Aotearoa.
The sculptural elements have had lives beyond the gallery, evinced in the mesmerising slides showing Banks Peninsula from mountain ridges to seashore in the North Gallery. The materials come together to create ephemeral interventions in the landscape, surviving solely as images and memory. A roll of white fabric: breeze-bellied or tight twisted on the beach by barrel waves and sea-foam, yellow silk traversing tussock and rocks. Ripple-edged wooden lengths plot a course to an empty shore and the neon-painted rods, like stems of toetoe, intersect the sky.
Despite the grandeur of the images, they strike me as conversations with the land, as opposed to something enacted upon it. The intention of the artist isn't in the tired tradition of 'mastery over the wild' . Throughout her practice, there is a sensitivity to ecological concerns. The materials in this exhibition are all natural, recycled or reused from previous exhibitions.
I found Time Ongoing both timeless and timely. It was beautiful, playful, engaging and contemplative. I felt privy to a conversation crafted delicately over years. Patience has never been a virtue of mine, so I thoroughly appreciated an exhibition that could get me thinking less about time slipping past and more about pausing to appreciate the things going by.
Pauline Rhodes, Time Ongoing
Toi Moroki CoCA Centre of Contemporary Art
66 Gloucester Street, Until 3 March