Article
ArtBeat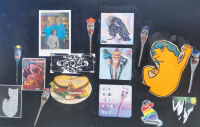 It started with pencils, cartoon characters and spoons, but soon there were gnomes, sandwiches and retro-woollen cardigans, even Icelandic pop star Björk arrived. This motley collection has been steadily taking over Christchurch walls for several months, gathering in visible locations and capturing the attention of the passing audience. Paste ups by Slap City artists have added a fun new element to the city's urban art scene.
Slap City, established by Lyttelton-based artist Teeth Like Screwdrivers, began as a monthly sticker making and swapping event but has since become something more adventurous, as its eclectic members have taken to the streets with posters and buckets of paste. Their cacophonous urban additions have become ubiquitous around the central city, representing an interesting lineage within street art culture as they fill cinder block walls and wooden hoardings with recognisable but always unique compositions.
Paste ups are a specific, yet broadly defined element of post-graffiti street art derived from historical instances of urban postering, while also offering both tactical and thematic possibilities. Paste ups are simply works on paper applied to urban surfaces using a variety of adhesives, although traditionally home-made wheat paste. The technique is favoured by some due to its less enduring presence, their quicker deterioration viewed as an echo of the wear and tear of urban environments, a quality perhaps most eloquently exemplified in the work of American artist Swoon, whose beautifully rendered life-sized woodblock prints on paper gained adoration for their fleeting beauty. Paste ups are also easier to apply in a guerrilla manner, with a significant portion of work completed off-site before a relatively expedient public execution, as evident in the global campaigns of French artist JR. They are also viewed by some as less aggressive and vandalistic due to their shorter legacy and the absence of the dreaded spray can.
While paste ups are not beholden to any stylistic or thematic consistency, there is an inherent subversive and political link, informed by the ghosts of punk posters, political fly posters and other forms of visual communication, as in the propaganda-influenced work of Shepard Fairey. Although in many cases this influence is less explicit, primarily suggested in an anarchic sense of humour or DIY aesthetic. Similarly, there is no technical expectation, images can be hand-drawn or digital collaged, allowing any level of experience among practitioners, serving as a perfect gateway for those seeking a creative outlet. Indeed, the backgrounds of the Slap City collective range from graffiti and street art to decoupage and cross-stitch, or those with no prior experience, with imagery equally as wide-ranging, from intentionally meaningless to personally political.
While the much-loved post-quake Band-Aids by Dr Suits and Jenna Ingram were a touching addition to the specifics of that period of time and provide a local paste-up precedent, the diversity and smaller scale of the Slap City works are an apt fit in the current environment, with its returning bustle. Overlapping works battle for attention, playing off each other in shouts and whispers as the viewer scans across the plastered surface, echoing the competing advertising and signage that dominate urban space. Even viral post-graffiti networks and communities are revealed as work is shared and pasted via posted packages or digital files, adding a cosmopolitan element to the works occurring across the city, with international artists present despite vast physical distance.
While murals garner headlines and graffiti is more tightly defined, paste ups provide a layered wrinkle to the city's urban art culture, an accessible wallpaper unrestricted by convention.
IMAGE
A collection of paste ups featuring Vez, Cape of Storms, Vermin, Your Alright You Are and Diva Dog,