Article
ArtBeat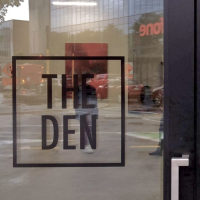 The Den quite suddenly held its final show on December 17th. THE END, a playful anagram, came about because of the unfixed, though generous lease agreement the directors had with the owner of the High Street retail space. Just as suddenly, Paludal announced its farewell to the bricks of the Papanui Rd garage, new location still TBC.
I've imagined artist-run galleries as mushrooms; forcing their way out of the ground, living their short life, then shriveling and dissolving into nothing, though leaving spores which in turn can become another mushroom… or project space. Sometimes one will come and go by itself, sometimes many can be found in the same place at the same time. We've had a lot of rain, followed by a lot of sun lately. For an organism which favours a consistent damp climate, perhaps the weather hasn't been helpful.
Stability in a lease comes from money, luck or some form of philanthropy—or the three combined. The studio/gallery model has studio residents contributing to the rent of the gallery demonstrated in Pōneke at play_station and MEANWHILE as being fundamental to the galleries' longevity. I've heard people lament the 'lost opportunities' of Ōtautahi's comparatively cheap rent and the 'potential' in our simultaneously dilapidated and new-but-empty CBD. It doesn't serve anyone to whinge though.
The Den had a precarious arrangement: they would pay a minimal rent with the understanding that the lease would be terminated when an interested party offered real money for the space. That newly rebuilt stretch of High Street for the last two years has been neither a thoroughfare nor a destination but that's now changing. Writing for Essays on artnow.nz - Leave the door ajar: on the generosity of found space, Jane Wallace describes the benefits of a temporary situation, saying that "the recognition that a project will be short-lived is an invigorating force," illustrating risk as a constant renewal of commitment to optimism. Romanticising risk does not sustain a project, however (money, luck, philanthropy, etc).
Acknowledging the contexts of our precious spaces, Jane remembers Paludal's intimacy with, and within, its physical setting: "…the overflow into the courtyard was a commotion of kitchen prep, art people, deliveries of vegetables and shellfish, chalk drawings from the kid upstairs, students, and early diners." Do I remember astroturf on or around that little decked area as well? It seems a strange thing to have imagined independently. Although the prices of odd industrial/commercial spaces aren't inflating like residential leases, Paludal's facilitators are still going to have to find a compassionate owner to negotiate a lease with.
Mercury Tower is a new space on the horizon, claiming to be an old space… in fact, claiming to be the first artist-run space in Aotearoa, now 'reopening'. Just for fun though, this is not true. A slip of the tongue and I'm on my way to saying Mercy Pictures. All judgements reserved, I look forward to their opening, it seems that their first show will be one which warrants a sense of humour.

DETAILS
Artist-run space, The Den at 181 High Street closed 17 December 2021. Artist-run space, Paludal's lease at 5/ 2 Papanui Road has ended and the gallery is seeking new premises. Artist-run space Mercury Tower opened 22 January at 324 Barbadoes Street. Instragram: mercury_tower . The Den is participating in the He Iti section of the Aotearoa Art Fair, Auckland, 2 – 6 March
IMAGE
Former entrance to The Den in High Street