Article
ArtBeat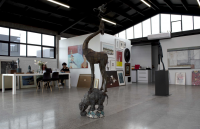 Gill Hay, Jules Mark and Ron Mottram launched NZ artbroker in 2017, an online sales and advisory arts service and a platform for selling art in the secondary market from its gallery at 241 Moorhouse Avenue.
Although there is some shared territory with the auction house market, including valuations and photographing artworks, NZ artbroker's commissions are lower and fixed values are set for resale. Mark says, 'we seek to make art more accessible, connecting art lovers to facilitate buying and selling works. Our exhibition programme is not that of a gallery. There is a broad diversity of artworks and prices and most people would find something that they love.'
Their previous lease expired in December 2020 and their new premises at 2 Kingsley Street is a purpose-fit space. Hay explains. 'We have an increasing number of works on our website so needed additional storage space, plus a permanent purpose-built area for photography and to be able to offer the opportunity to view a work in a gallery setting.'
The move also accords greater attention to the exhibition of large works of art and the experience of historical and contemporary works. Among these are a significant Richard Adams, a panoramic large screen work by Anna Dalzell and two recent stunning impasto works by Holly van Zandenburg.
Mark states, 'it has been a very exciting year for NZ artbroker with a diverse selection of works coming to the market. This has culminated with a C.F. Goldie painting, Te Mutu Haranui, Te Arawa Chief, our last listing for 2020. This work was in a private Australian collection prior to its return home. The first exhibition and sale of it was at the 37th annual exhibition of the Canterbury Society of Arts in Christchurch in 1917.'
DETAILS
NZ artbroker showroom,
2 Kingsley St, Sydenham
Wednesday - Saturday – 11am – 2pm
IMAGE
1. Jules Mark in NZ artbrokers' new gallery and showroom in Sydenham