Reviews
ArtBeat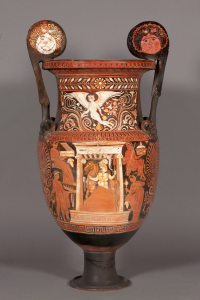 Myths and Mortals is the latest exhibition at the Teece Museum and it brings together aspects of art history, Greek and Roman history, literature and mythology. Through a variety of objects including drinking vessels and sculptures, it focuses on the daily lives of the ancient Greeks and Romans, their communities, and the ways in which the gods informed their belief systems and rituals. The exhibition is organised into specific themes and each theme and object are accompanied by text panels that have been meticulously researched. Many of the objects on display have been drawn from the impressive James Logie Memorial Collection.
The gods were central to ancient life and several items in the exhibition feature the great hero Heracles and his Twelve Labours. Also included are plaster casts of Apollo and Hera, as well as a bronze statuette of Aphrodite. The male-dominated world of athletics also played a central role in the lives of the ancient Greeks. A Lucanian red-figure bell-krater (ca. 420-410 BCE) portrays two naked and muscular male athletes in conversation with the draped figure of a woman.
The exhibition places a particular focus on women and the roles they played within their homes, families, and communities. They were subservient to the men in their lives and were expected to behave like the virtuous female characters portrayed in myths. An Apulian red-figure bell-krater, ca. 360BCE, portrays Princess Andromeda who has been sacrificed to a sea monster. Here Andromeda is tied to a shrine and is looked on by her father King Cepheus and future husband, Perseus, who fell in love with Andromeda. Nearby, an Apulian red-figure stamnos, ca. 4th century BCE, portrays women who are probably preparing for a wedding. The stamnos was a traditional marriage vessel and the details and fold lines in the figures' drapery are particularly impressive.
One of the most extraordinary items in Myths and Mortals is a large Apulian red-figure volute-krater, ca. 330-320 BCE, attributed to the Ganymede Painter. Intended as a grave marker, or to hold the ashes of the dead, it depicts on one side a young athletic warrior with his horse, while four mourners holding various funerary gifts surround him. Despite its visible signs of age, this volute-krater is elaborately decorated and commands close viewing.
Another highlight is local artist Marian Maguire's Penelope Weaves and Waits (2017), a beautifully constructed wooden fireplace featuring Odysseus' resourceful wife Penelope working away at her loom. Maguire has long been inspired by mythology and ancient Greek vase painting and the inclusion of her work brings a contemporary touch to this long-awaited and enriching exhibition.
DETAILS
Myths and Mortals: Life in Ancient Times, curated by Terri Elder and Natalie Looyer
Teece Museum of Classical Antiquities
The Arts Centre Te Matatiki Toi Ora
3 Hereford Street, Christchurch
31 October – November 2021
IMAGE
Volute Krater, James Logie Memorial Collection 158.75, © Teece Museum of Classical Antiquities, University of Canterbury.