Reviews
ArtBeat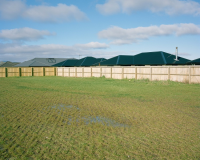 Mitchell Bright, Cultivated
Lucy Ovenden
The Christchurch earthquakes caused a dramatic redistribution of the city's population. While eastern suburbs like Bexley reverted to swamp, small agricultural towns suffered exponential growth.
Mitchell Bright's Cultivated, documents the remodelling of this landscape, investigating the building of CSM2; an extension to the southern motorway that stretches from Rolleston to Halswell-Junction Road. Bright has recorded, not only the motorway, but the subdivisions nestled alongside it: Wigram, Halswell, Yaldhurst, Lincoln and Rolleston.
Standing at the top of the steps leading into CoCA's ground floor gallery, the viewer is greeted by the word Cultivated. The title is a clever play on words alongside a photograph of a cereal crop, fenced in by a grassy roadside, a macrocarpa hedge and well-established trees in the background. Historically Cantabrians have cultivated the land and pastures; but moving into the gallery space it becomes clear that we are now cultivating something else.
Coles Fields Residential Development, Formerly 1535 Main South Road, Rolleston is a panoramic tetraptych. A hedge through the first three images morphs into a mass of roofs in the fourth; similarly a collection of heavy machinery enlarges the area of bare ground until the fourth image, in which a spec-home appears in its centre.
Photographs of relinquished residential fences and gates where piles of topsoil and gravel replace once-loved homes are contrasted against the 'finished product' - a new concrete tennis court, freshly sown grass on a Flemington section and an overgrown roadside, bordering neatly fenced plots. Somehow new, old, and incomplete all feel abandoned.
Cultivated does not evoke the mood of a fresh start or an emerging community. Blue skies and green vegetation are present but it does not feel like human life. Instead, Bright depicts a world of halted progress, more like demolition than construction, almost to the point of a post-disaster atmosphere – I'm not sure whether that is on purpose or accident, ironic or just the simple truth. Nature fights to prevail over concrete and gravel, while Wigram's retirement village lends itself further towards the post-war Middle East than a Ryman Healthcare advertisement.
Bright's titles read as captions rather than names and are easy to imagine gracing a resource consent application. However, they may also be an attempt by the artist to distance himself from these works, removing any emotional bias he may hold towards a district that has openly been disclosed as his home.

Mitchel Bright Cultivated
CoCA Toi Moroki, Centre of Contemporary Art
66 Gloucester Street
26 January – 17 March
IMAGE
Mitchell Bright, CSM2 Overbridge Construction, Main South Road, looking East, Selwyn, 2017
Mitchell Bright, New grass, Flemington Residential Development, looking South-East, 2017