Reviews
ArtBeat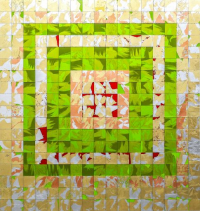 relationship status is a stunning new solo show by Miranda Parkes at Jonathan Smart Gallery. It is a visual delight: Vibrant pinks and greens, glistening golds, shimmering silvers, rich textures and playful materials invigorate and energise the white walls of the space.
With the rise of social media, something happened somewhere around 2013 where online dating lifted itself out of its old context and into a fresh new normalised culture in which a vast majority of us participate. The excitement of swiping right is a physical and emotive action now woven into the fabric of our existence. Matching with a cute face: messaging them all night, friendly chat turning into flirty chat till finally arranging that date. Meeting up with your date: nervously texting "i'm here in the green cardigan". Small talk such as "how's your weekend going?" turns into flirty, provocative questions 3 hours and 5 wines later. Contemporary dating culture is a mixture of humour, emotion and excitement. Emotions which I believe are perfectly captivated within relationship status.
tinder is a large tile work on the right side of the gallery and perhaps the work that commands the most attention upon first walking into the show. Each tile is a work in itself, unique in its paint application. Placed all together into a large symmetrical pattern, I am visually reminded of an app logo format, but instead of being small and apathetic on a digital screen with flat colour and rigid pixels. tinder is large, empathetic, textural and haptic. Each tile is carefully crafted, each existing as a work within themselves but as something larger, powerful and intricate as a large piece. The dating app has exploded out of the limits of the digital realm and into the vast, abstracted, emotional beauty and reality of the physical realm.
Miranda Parkes' dynamic use of texture, materials and colour definitely doesn't go unnoticed and her collection of collages are just that. They are rich with decadent lashings of paint, ornate existing material from each book page and various other collage materials. There is something so beautiful, emotive, personal and unique about each and every one of them. They are dynamic works each containing their own power and unique story.
The dating digital landscape has transformed and is translated into an abstracted visual language that is emotional, textural, haptic and vibrant. Relationship status has integrity, vulnerability and a strong sense of humour. I thoroughly enjoyed this show and definitely recommend giving it a visit.
Miranda Parkes
relationship status
Jonathan Smart Gallery
52 Buchan Street
2 July – 1 August
IMAGE
1. Miranda Parkes, tinder, 2020, details