Article
ArtBeat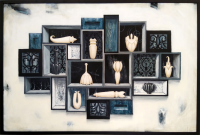 Based in Central Otago, Megan Huffadine is an artist best-known for her wall-relief sculptures of objects conceived and crafted in mdf (medium density fibreboard). Yet, over the past 30 years she has also sustained a fundamental commitment to working with paint, experimenting with differing painterly surfaces and its textural qualities in studio works on paper.
Covid19 and lockdown however has provided her with the opportunity to commit serious attention to a new body of work, again concerned with imagined cabinets of curiosities - but this time as acrylic on board.
As a first series of paintings, Huffadine's transition from three dimensional sculpture to the flat surfaces of paint on board appear seamless, transitioning from one means of practice to another. Central to this shift is her painting processes and her awareness of the same as a subject in itself. Where her sculptures have been more than substantial as an evocative and reflective and questioning experience, there is also a sense of her paintings as being about an immersive visual encounter.
Priorto her graduating BFA from the University of Canterbury School of Fine Arts in 1987, Huffadine completed a Post-graduate Diploma in Anthropology at the University of Otago in 1978. This background in museum practice and the care and display of previous objects and artefacts remains central to her practice. Spending time in the store rooms of the Otago Museum, its collection of Māori artefacts in the Skinner Collection assumed an important presence. The objects were arranged in an orderly manner, yet side by side were also asymmetric. She remembers the satisfaction of that visual experience, one which could take you go on a journey and let you pick up or discover different things at different times.
For Huffadine it is this wider contexturalisation of science and anthropology and its display that is essential, whether a wall of photographs at home, a collection of things from a daily walk or formal and public arrangement and display in a museums or gallery.
There are also formal compositional relationships in Nature Morte. Attention is equally upon the objects and spaces between them, eliciting numerous conversations between colours, shapes, textures, forms and subjects.
DETAILS
Megan Huffadine, Nature Morte
Eade Gallery, 17A Holloway Street, Clyde, Central Otago
1 – 26 February
IMAGE
Megan Huffadine "still life with damask teardrop" 2021, acrylic paint and mediums on board, 830 x 1230 x 35mm