Article
ArtBeat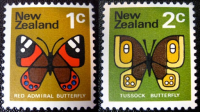 Maurice Askew (1921-2020). Designer, Filmmaker and Teacher
Maurice Askew was appointed Lecturer in Design at the University of Canterbury's School of Fine Arts in 1962 by Professor John Simpson who, since his arrival at the SFA three years earlier, was in the process of redesigning its curriculum.
Askew's appointment saw the door finally closing on the influential Arts & Craft Movement, replaced by contemporary principles of British design influenced by the legacy of the Bauhaus. Further appointments included painter Don Peebles in 1965. The remaining remnants of the Victorian era were finally over for the SFA, succeeded by 20th century Modernism. In addition to changes in its design curriculum, Askew also introduced film, animation and photography.
Askew arrived in New Zealand from London with an experience of 20th century art and designed matched by few of his contemporaries. He was born in Redditch, Worcestershire in 1921 and prior to his time with the Royal Air Force (RAF) during the Second World War, had studied at Birmingham College of Arts and Craft and as an apprentice at the Argus Advertising Agency.
On his second mission flying over Leipzig in Germany in 1944, the Lancaster Bomber he and his crew were flying was shot down and he became a prisoner of war, returning to England at the end of war. Again a civilian, he married Doris Parr and returned to study at the Birmingham College of Arts and Crafts, graduating in 1951 with a Diploma in Fine Arts and taking up a teaching position in design at the Stoke-on-Trent College of Art. This was followed by time in London, joining the design department at the recently-formed Granada Television Studio where, among his tasks, he created promotion cards for television programmes that included Wyatt Earp and Sir Lancelot, as well set designs for Granada's Coronation Street.
At Granada he also teamed up with fellow graphic artist, Bryan Cosgrove to script and animate Canary, a 15 minute cartoon, among the earliest to emerge in the United Kingdom, following the success of English film animators, John Halas and Joy Batchelor's Animal Farm in 1954. Canary received international critical acclaim, including a silver medal at the Vienna film festival in 1963.
At the SFA, Askew established friendships and working relationships with artists and teachers sharing his ambitions for the modern movement and its engagement with New Zealand's art and culture. This included, Russell Clark, Richard Lovell-Smith, Doris Lusk, Don Peebles, Trevor Moffit , Tom Taylor and W. A. Sutton.
Askew's influence within this community and environment was critical at this time for New Zealand design and film. Painter and designer, Roy Good describes Askew's influence as highly underrated and its significance can be seen in his series of decimal currency stamps from 1970, the 1974 Commonwealth Games in Christchurch and theatre designs for the Court Theatre:
He was the very first lecturer with real world professional experience at the cutting edge of the development of television in the United Kingdom. [His students at Ilam included] Murray Reece the first graduate in film to come out of a New Zealand art school and of course went on to make the breakthrough film for television, Ian Cross's The God Boy. Mark Cleverly another student of Maurice's in my time was a 'star' graphic designer and made his name in stamp design, dragging the profession into the 20th century in the late 60's and early 70's.
Senior Lecturer in Film at the School of Fine Arts, John Chrisstoffels similarly acknowledges his influence, commenting that by 1975 the demand from Askew's students for film to be a separate studio at Ilam saw it become a reality. 'It remains arguably the oldest film school in the country. Among its early students were Vincent Ward and Gaylene Preston as well as the famous Australian producer Timothy White.'
After almost twenty years of teaching at Ilam, Askew retired and for the next 39 years went on to illustrate children's books, hold numerous exhibitions of his Neo-Romantic paintings, responding to New Zealand's and Great Britain's land and cityscapes, write and publish two books on his life and times, fundraise for the United Nations charity for children UNICEF and rediscovered and exchanged conversations with companions from his RAF war years.
My memories of Maurice were at COCA, the Centre of Contemporary Art in the 1990s and 2000s. I programmed a number of shows, including I Love Lucy, an exhibition of his television promotion cards for Granada. I was surprised by his humility and to discover the breadth and depth of his practice. I recently posted on Facebook my thoughts on Maurice, finishing with a quote from John Chrisstoffels: Maurice had an amazing 99 years of life and set a wonderful example as an individual who proved that we can be ambitious and successful and also "kind, gentle and generous."
IMAGES
Maurice Askew, University of Canterbury School of Fine Arts, c. 1965. Photograph: Maurice Askew, At Sixties and Seventies. Christchurch: Selwyn Bridge Press, 2012
Maurice Askew, Red Admiral Butterfly , Tussock Butterfly, 1970, New Zealand Post
Maurice Askew, Colonial Willamsburg, 1970, work on paper. Collection of Christchurch Art Gallery Te Paun o Waiwehtū. William A Sutton bequest, 2000