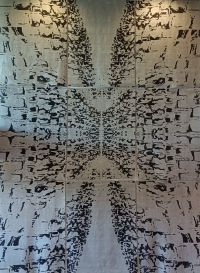 Writer
Reah Somerville
Opening in its new building in January 2015 in West Street, the Ashburton Art Gallery's exhibition programme also embraced its foyer, featuring the work of leading and emerging New Zealand artists. Spanning both floors of the building the foyer installations are now a highly anticipated part of the gallery's exhibition schedule.
From April to October, Christchurch-based and San Francisco-born artist Mark Soltero has installed Cinéma of the Rorschach, a painting that asks questions about memory and the multifaceted nature of our encounter with a work of art.
Behind Cinéma of the Rorschach is the influence of Soltero's childhood. During his time in San Francisco, the film industry was growing rapidly and in each neighbourhood, what we would now consider 'boutique', cinemas embodied local character. Regular screenings of record-breaking and life-altering films like Star Wars, had an impact on Mark's life and work. Later, these became a significant influence on both his subject matter and process. For Soltero, the theatre is a container for images and collective memory, connecting the physical and theoretical aspects of his work.

Soltero responded to the ideas of Jewish philosopher, Walter Benjamin (1892 – 1940), emphasising the reproduction and public reception of an image. Soltero's images begin with the projection of an original photograph created by light reflected from an object. During projection, a passage of light carries the image until striking a surface, creating the second and third copy of the image. What is seen by the viewer is the fourth copy, distanced from the original object by four separations. Soltero's work reflects these layers, physically and contextually alluding to the ever-growing distance between moment and memory.
The silver screen of cinema and the gallery wall both act as a blank canvas to be covered with an artist works. Artistic institutions such as art galleries have a certain revere placed on them which determines that what is displayed has worth and value. This resulting dynamic is a reflective, reciprocal, and ever-rotational relationship between the viewed and the viewer. Soltero builds further on this relationship not only by binding the worlds of cinema and art tightly into one, but by closing the distance between viewer and artwork by toying with both personal and collective memory.
Many of Soltero's works are built upon a found -image of the Irving Theatre in San Francisco. Using a found-image adds to the level of separation between viewed and viewer. Although he never actually stepped inside the Irvine Theatre, the image provides a reference to the theatres in which Soltero had spent the evenings and weekends of his youth.
Soltero's intricate and intense process begins with digitally separating data from the original image into layers representing levels of light. These layers are then made into large, hyper-detailed stencils and this Warhol-like process of stencilling highlights each layer through the overlapping and slight bleeding of paint. Stencilling also creates a positive and negative map of each layer, which Soltero repurposes across new pieces. The way the stencil is layered and laid also creates tension between the visible and the hidden.

In San Francisco, a young Soltero attended a court-mandated therapy session where he was shown a book of dark, inky-blobs, AKA a Rorschach test. Soltero recalls a surge of awe at the moment the book was laid before him, the deepest tone of ink he had ever seen dancing in flowing forms across the paper. In a Rorschach-like manner, Soltero encourages viewers to let themselves search through the shapes allowing their past experiences to influence what they see.
Soltero embraces this subconscious way of viewing to explore themes of personal history and memory. He not only incorporates his own past but allows each viewer the opportunity to apply their personal experience and memory to the work.

DETAILS
Mark Soltero, Cinéma of the Rorschach, 2021
Foyer of the Ashburton Art Gallery, 327 West Street.
April – October
IMAGE
1.
Mark

Soltero

, Cinéma of the Rorschach – Silver, 2020, acrylic on un-stretched canvas with aluminium support bar