Reviews
ArtBeat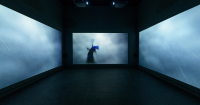 Curated by Bridget Rewiti (Ngāti Ranginui, Ngāi Te Rangi) and Melanie Oliver, Māori Moving Image ki Te Puna o Waiwhetū is an exhibition full of kaha and aroha, for the ever evolving and inspiring art history of Māori video art. It is an immersive and expansive exhibition, featuring the work of eleven artists, and also a karaoke room!
The entrance to the exhibition is a series of screens flowing along a curved wall. Rachael Rakena's (Ngāi Tahu, Ngāpuhi) Ko Te Wai He Wai Ora (2021) is a work which undulates like the tide and is the outcome of working with many of her whānaunga. Lisa Reihana (Ngāpuhi, Ngāti Hine, Ngāi Tū) builds a landscape of overlapping images, flora and fauna - Christian Louboutin, A Reverie (2020) a digital collage which is distinctively hers.
Jeremey Leatinu'u's (Ngāti Maniapoto, Sāmoa) Te Whakawhitinga (2022) is visually stunning, immortalising brown skin as divine renditions of tūpuna in black and white 16mm film noir. Ana Iti (Te Rarawa) exemplifies the Māori aptitude for word play in Trapped in a Kiss, (2021) referencing Ralph Hotere's print making process and 19th century Māori printing practices.
In Horohoro, (2018) a five channel work by Robert George (Te Arawa, Ngāti Awa), the comforting familiarity of rural Marae is brought front and centre, while Sarah Hudson (Ngāi Tūhoe, Ngāti Awa, Ngāti Pūkeko) brings us three painterly video works in Revisit, Replace and Return (2022). Each is a static shot of her selecting and returning whenua. Te Taki o te Ua (The Sound of the Rain) (2021/21) is an immersive and spiritually explosive work by Louis Pōtiki Bryant (Ngāi Tahu) in collaboration with Paddy Free and Ariana Tikao (Kāi Tahu).
Nova Paul (Ngāpuhi) uses the Pūriri trees as both the subject and chemical developer of her 16mm film Rākau (2022), in a lusciously experimental work. Shannon Te Ao (Ngāti Tūwharetoa) has a three channel, almost photographic, video work called Ia rā, ia rā (rere runga, rere raro) (2021) to accompany a waiata about tīwaiwaka written by long term collaborator Kurt Komene (Te Atiawa). Nathan Pohio's (Kāi Tahu) Spectre Echo Landfall (2007) is a stuttering reference to archives and disjointed memories. The subject is a photograph of a ship, rising and falling like the tide.
As for The Karaoke Room, it is particularly popular! The Paua disco ball, created by Terri Te Tau (Rangitāne,) casts pearls of light which bounce around the room. Initially shown as Māori Moving Image ki Te Awakairangi at the Dowse in March 2022, The Karaoke Room is an invitation to bust out the melodies to five very different karaoke videos, featuring iconic pairings such as Troy Kingi's (Te Arawa) waiata True Love with artist Kahurangiariki Smith (Mataatua) and more!
DETAILS
Māori Moving Image ki Te Puna o Waiwhetū
Christchurch Art Gallery Te Puna o Waiwhetū
Corner Worcester Blvd and Montreal Street
4 June – 16 October
IMAGE
Louise Pōtiki Bryant in collaboration with Ariana Tikao and Paddy Free

Te Taki o te Ua

/

The Sound of Rain

(installation view) 2022. 3-channel HD video. Courtesy of the artists.