Reviews
ArtBeat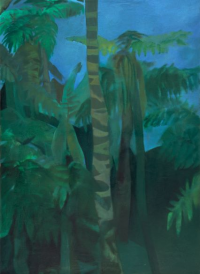 The Paris-born artist Louise Henderson was pivotal to the development of mid-century Modernism in New Zealand and is one of the country's most prolific and innovative women painters, yet her work has received limited exposure. Louise Henderson: From Life is the artist's first ever survey exhibition and was developed by Auckland Art Gallery Toi o Tāmaki and Christchurch Art Gallery Te Puna o Waiwhetū.
A strong-minded, experimental and instinctive artist, Henderson relished the freedom and opportunities that New Zealand offered. The watercolours and oil paintings in this exhibition reveal her deep connection with the natural world, an ongoing preoccupation with form and a love of vibrant, bold colours.
Henderson was attracted to the natural and urban landscapes of New Zealand soon after moving to Christchurch in 1925 and her early images of Canterbury and Wellington occupy the first room of the exhibition. Her interest in perspective and form permeates Manchester Street, Christchurch, 1929, Plain and Hills, 1936 and Arthur's Pass c.1940. (The decision to hang the latter two paintings alongside each other was a wise one.) Set off against these charming compositions is Henderson's exceptional Addington Workshops, 1930, a fascinating and highly accomplished work which taps into themes of labour and industry and demands close viewing.
Coinciding with a trip to Paris in 1952, Henderson developed her technique by embracing Cubism and flattening her subject; her still lifes and portrayals of women such as Still Life with Arum Lilies c.1950, Maori Matrons, 1953, and Samoan Woman in Yellow, 1954, are evidence of this. By the end of the decade, Henderson's work veered towards abstraction and Façade in Florence, 1959, and Dieppe, 1959, are characterised by flat plains and solid blocks of colour.
My personal highlight is Henderson's Bush Series from 1970. Bush Series 3, Bush Series No. 5 and Bush Series No. 7 are Henderson's personal response to the lush native forest that surrounded her Auckland studio. In the three paintings, leaves, ferns and tree trunks are rendered in a variety of crisp, vibrant shades of green. Creating a stimulating experience for the viewer, these tall paintings are hung alongside each other while similar works from the same period occupy the other two walls in a room dominated by green. As a result, it feels as though we, too, are in the middle of a forest.
The exhibition reaches its climax with Henderson's momentous The Twelve Months series from 1987. A celebration of colour, the seasons and New Zealand's natural landscape, the series of giant canvases takes up one entire wall, a fitting end to this long-awaited and highly memorable exhibition.
Louise Henderson: From Life
Christchurch Art Gallery TePuna o Waiwhetū
Cnr Worcester Boulevard and Montreal St, Christchurch
27 June – 11 October
IMAGE
Louise Henderson, Bush Series No. 5, 1970. Collection of Christchurch Art Gallery Te Puna o Waiwhetū; Dame Louise Henderson Collection, presented by the McKegg Family, 1999.