Reviews
ArtBeat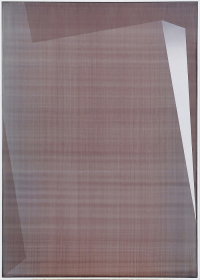 Kristy Gorman, The Ground Aslant
Andrew Paul Wood
Looking at the paintings in Kristy Gorman's The Ground Aslant, I am a little bit reminded of the Russian avant-gardist Lyubov Popova who, in the early part of the twentieth century, subverted the macho posturing, rigid geometries and reductive palette of Futurism and Suprematism by introducing a painterly softness and a more playful approach to form and composition. In Gorman's paintings, the traditional ingredients of geometric abstraction are still there – the plane, the line, the formalism – but given their own subtle and unique spin. Auckland-based, Gorman graduated from the University of Canterbury's School of Fine Arts in 1992, and I love the fact that she continues to show here.
Meticulously executed in ink at various states of dilution, staining fine muslin, the lightness of touch, muted hues and loose grids suggest a continuity with Canadian-American painter Agnes Martin. Often these grids are created by removing threads from the canvas itself, making it almost a sculptural event, and enlivened by distortions caused by the stretched fabric. This builds multiple layers of depth and volume into an area of painting better known for flatness and fetishizing the surface – there is a delicate push and pull interplay between figure and ground that catches and holds the eye with endlessly seductive possibilities.
In other works an optical, raster-like effect is simulated by the rhythm or stopping and starting as the pigment is dragged down the surface. This record of a physical act puts the artist's body, and the duration and physicality of the act of making, back into the somewhat rarefied realm of pure geometric abstraction. It's actually quite difficult to get bored with a Gorman work – there's always some fresh layer to be uncovered, some previously unconsidered subtlety to be enjoyed. Gorman is an impresario in the potentials of colour, translucence, wash and layering, teasing out unexpected effects.
Edges, overlaps and absences are where the action happens. Grey rhomboids invade the pitch, giving the impression of being the drop shadow of objects that aren't there, but really they're just monochromatic planes floating on the pictorial surface. Similarly white triangular forms might be trompe l'oeil origami of the picture plane folding back on itself. Other forms merely exist by implication, artefacts of their edges. With this new work Gorman is really pushing her practice into novel and largely unexplored territory, and I am entirely here for it. Brava!
Kristy Gorman, The Ground Aslant
Jonathan Smart Gallery
March 15 – April 13 2019
IMAGE
Kristy Gorman, Edging, 2019, ink on muslin on board, 610 x 430mm