Kim Lowe is the recipient of the 2019 Olivia Spencer Bower Award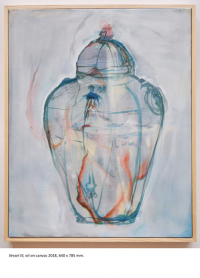 Kim Lowe is the 32nd recipient of the Olivia Spencer Bower Award and will take up the studio residency in Ōtautahi Christchurch in January 2019.
With its emphasis upon the 'future artistic potential' of the artist, the OSB has an impressive history of recipients since its establishment in 1987. Among the list are Pauline Rhodes, Seraphine Pick, Hannah Beehre, Robert Hood and Miranda Parkes. Consisting of a grant of $30,000 for the year and a studio, (which in 2019 is intended to see the reopening of an artist's studio in the Arts Centre of Christchurch), the Award provides valuable time for the recipient to focus their full attention upon their practice and development of work.
Kim Lowe says that she intends to return to some of the themes explored in her post-graduate study, including an investigation of traditional Chinese painting techniques, using Chen Rong's Nine Dragons as a starting point for a new series of drawings and ink works. Nine Dragons is a painting from Chinese antiquity regarded by Chinese scholars as a Taoist masterpiece, painted during the Chinese Southern Song dynasty (around 1244):
'Underlying all of my work to date are the Taoist and opposing principles of duality, the interchanging and intermingling of cultural symbols; East-West bi-culturalism; light and dark; figurative and abstraction; looking back to antiquity to determine the future; so I'm hoping to use a mix of tonal washes with detailed calligraphic brush techniques to develop new works that will allude to a New Zealand Chinese and South Island narrative (or faux narrative) using mine and other family histories that are hopefully also grounded here in Te Wai Pounamu.'
'While I have made some progress with printmaking particularly with emboss techniques, I feel that I have not touched on my real work yet. I recently attended a talk by Dr Richard Bullen at The Physics Room who was leading a discussion about a Ming Dynasty scroll painting which was on loan for (Un)conditional I from the Aigantighe Art Gallery. During the discussion Dr Bullen talked about the technique of 'boneless painting' in the scroll work, a traditional method of ink wash to create ethereal land and cloudscapes as compared to more detailed calligraphic brush work that uses outlines or 'bones'. This is a term that I was unfamiliar with but described a method that I have touched on intuitively through my own studies of Chinese brush painting. His talk has reignited my desire to return to a more in-depth investigation of Chinese painting techniques.'
'My plan is to first create a series of ink works on paper which will enable me to develop the figurative content and narrative as well as practicing the calligraphic brush and wash techniques.'
'Then I will work on large supports of canvas or large format paper and begin to introduce aspects of colour. Jade and Pounamu is a theme I would like to revisit. The natural colour and flecks in the stone lends itself to land and cloudscape forms.'
'I am also looking forward to spending time familiarizing myself with the Rewi Alley Collection now that Dr Bullen has uploaded images of the full collection, and hope to gain an opportunity to develop a relationship with the Canterbury Museum with a view to making new work based on some of the items in the collection.'
Kim Lowe's prints and works on paper are currently on exhibition until 18th November at Chambers Gallery with works by John Wishart. The exhibition is: Kim Low (M)other & John Wishart Bi-products. See: http://chambersart.co.nz/exhibition/kim-lowe-mother-john-wishart-bi-products/