Article
ArtBeat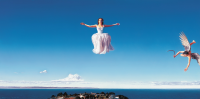 Sumner-based artist Kees Bruin is our most prominent international artist. In 2021 Bruin is in his 5th decade of painting with works in public and significant private collections in countries that include Italy, Switzerland, Great Britain, Canada, Austria, Australia and Aotearoa.
The publication of Kees Bruin: Visions of the Real is an acknowledgement of and introduction to an arts practice founded within the context of American photo-realist painting from the 1970s. Yet, to label Bruin's art as such is primarily to reveal the background to his painting processes. Indeed, the 'visionary realism' of his art, its subjects, philosophies and principles represent a paradox central to the heart and complexity of his practice.
It is also an irony that author and art historian, John C. Stringer assuredly navigates. The subjects of Bruin's paintings are complex. A manifestation of numerous influences and ideas: philosophy, Christianity, surfing, mythology, science, art history, still-life, the old masters, cosmology and more, all framed within, as Stringer observes, 'allusion and illusion.' Visions of the Real reveals that it is impossible not to be impressed by Bruin's skill as a painter and the broad reach of his philosophies and the subjects of his paintings. To his credit, Stringer frames and positions his discussion of Bruin's art predominantly within the context of Christianity, the Old and New Testament and in doing so provides a welcome means of navigation through the themes of Bruin's art.
And Vision of the Real rightly gives ample space to large-scale reproductions of Bruin's painting, encompassing nearly 200 works from surfing and skateboarding in the 1970s and 80s, Sumner beach in 2000 (once seen the painting will be with you on your next visit to Sumner), the bride series from the 1990s and Greek mythology and cosmology from 2014 to the present day.
How to reconcile the range of Bruin's subjects with one another? Kees Bruin: Visions of the Real feels like the first step in such a process. Offering a good place to start is to reflect on a comment in 2005 from Christopher Moore, then arts editor for The Press, describing a painting by Bruin, Is That You Caravaggio II, as probing 'beneath the veneer of human experience.' Moore could also be talking about Bruin's surfer/skateboard paintings from the 1990s and the wider context of all his work over the past 48 years.
DETAILS
John C. Stringer, Kees Bruin Visions of the Real, Quentin Wilson Publishing, 2021
Available from good book stores including: UBS Canterbury, at:
https://ubscan.co.nz/product/kees-bruin-visions-of-the-real/
IMAGE
Kees Bruin:Imminent Harvest, 2003 (detail), oil on canvas, 1200 x 700mm (destroyed in the Christchurch earthquakes 2011)