Reviews
ArtBeat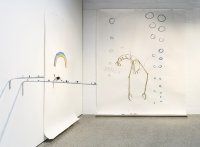 Fritsch and Upritchard: Touching The Paleolithic
Charlotte Filipov
'SUPPEN' the title of this exhibition at The National, means Soup in German. Karl Fritsch presents a vast selection of his rings with large-scale watercolour paintings by Francis Upritchard. I believe the title refers to primordial soup, a mythical substance that grew into all of the biodiversity on the planet, human life included!
Fritsch, acting as primordial jeweler is a master of making perfectly crude rings. His deconstructed process was designed through a re-purposing of broken jewelry early in his career, allowing a more playful and less traditional approach. Fritsch's commitment to his craft speaks for itself, his life and oeuvre representative of an artist deeply engaged by what they do.
He uses a range of techniques derived from traditional jewelry practise. The most consistently impressive being lost wax casting. Molten metal used to cast wax originals trace the fingerprints and messy marks left by human intervention, the metal mimics the qualities of the wax, becoming a simulacrum of the original object. There is a level of familiarity and conversation here with Upritchard's staple waxy, figurative works, traces of human contact and her small imitations of sacred objects, canopic jars, or taonga whakarākei.
Fritsch's collaboration with Upritchard marks a linked interest in the Paleolithic, primordial human and its spirituality, or even an earlier form of life. Upritchard's minimal, playful watercolours in this exhibition don't seem to rest on the same rhetoric her past work does, although there is a kind of profound meaninglessness in her faux-cave-paintings. Her use of irony does not excuse the
inappropriate-to-violent borrowing of other cultures in past works - Cultures that have been subject to colonial interrogation or those being 'collected' in museums, libraries and private personal archives. Wetwang Slack shown earlier this year at The Barbican in London exemplified her lack of distinction between cultures that exist outside of 'The West' and her flattened idea of 'otherness'. [See: Lopesi, Lana, The Moral Argument: A Review of 'Jealous Saboteurs,' The Pantograph Punch, 18.10.2017]
Fritsch's rings bring to mind the vague period between homo-sapiens and our predecessors, when humans supposedly developed consciousness. In southwestern Germany, in the Hohle Fels caves, fragments of mammoth-ivory were discovered. The objects were depictions of headless and legless women at various stages of fertile life, one using a small ivory ring to hang as a pendant. These 'Venus' objects date to around 35-40,000 years ago and are what would be considered jewelry in a contemporary Western understanding, though double in function as a spiritual object. Much can be said for the relationship between contemporary jewelry and the function of an art-object loaded with material history and most importantly, an idea.
'The ring is desperate, desperate to find a finger, desperate to tell you: I love you, I am beautiful, I am rich, I am cool, I hate you, I come from Ireland or Austria, I want more, I have enough, I am married, I am funny, I am scary, stupid, important, I can´t help you. I am.' [See: An interview w/ Karl Fritsch. Cummins, Susan. 'Karl Fritsch: 'Lucy' or Scientifically, AL288-1' Art Jewelry Forum, 27.09.2012].
Fritsch has a romantic relationship with his practise, falling into a world of possibilities. It becomes impossible to distinguish meaning, each ring existing entirely as its own.
Karl Fritsch, SUPPEN
The National
11 July – 10 August 2019
IMAGES
Karl Fritsch, SUPPEN, installation with works on paper by Frances Upritchard, Photograph: John Collie