Reviews
ArtBeat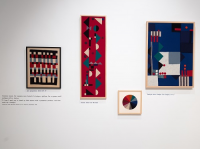 Julia Holderness, Florence & Florence: Other Textile Histories
Priscilla Howie
Florence & Florence: Other Textile Histories examines the role and treatment of textiles from the historical archives of the University of Canterbury's Macmillan Brown Library, with Julia Holderness delving into the work and practices of Florence Akins (1906 – 2012) and Florence Weir (1899-1979).
It is an incredibly tactile experience; the display cases and superb range of textiles and colours are visually provocative and inspiring, and within the content of both the known information about the objects - and the absence of the same - Florence & Florence is intriguing.
Florence Akins was an important figure in New Zealand textiles. Her approach to mark making is unique, simplistic yet complex, and intricate and considered in its approach to colour, light and texture. An instructor at the Canterbury College School of Art, she taught design, embroidery, lino cuts, modeling and calligraphy. Holderness displays Akins' students' workbooks to show the influence she had upon them. It is clear that her teaching was both practical yet tactile in its aesthetic considerations.
Florence Weir was the only known New Zealander who studied at the Bauhaus, and her time there is evident in the exhibition in the geometric shapes, patterns and block colour of her designs created for costumes for a Christchurch theatre production which, unfortunately, went undocumented. As a response to this missing information and archive, Holderness has created a series of Wool Appliqué, inspired by Weir. Researching her practice with existing archival material, Holderness uses her tools to create new works in response to Weir's drawings that re-imagine their physicality - one that does not exist.
Florence & Florence seamlessly traces memory through collecting material and information, leaving the viewer, curious, intrigued and wanting to know more, with Holderness asking the viewer to consider and question how histories are presented through archival methods and the practices of Akins and Weir.
Florence & Florence: Other Textile Histories
5 September - 4 October 2018, Ilam Campus Gallery
Block 2, School of Fine Arts,
Julia Holderness, Florence & Florence: Other Textile Histories, (installation), photograph courtesy of Thomas Herman