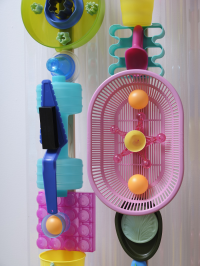 Sculptor and forager of consumer waste, artist Judy Darragh is exhibiting in Ōtautahi at CoCA Toi Moroki from late February until early May, the perverse title of her gallery installation, Competitive Plastics, on first encounter seeming to touch upon the idea that those throwaway plastic objects in the days of our lives are at war and capable of gaining control of planet earth. Yet, Competitive Plastics is equally a title whose origins are more mundane, originating from Darragh's home town of Ōtautahi, and a now defunct plastics manufacturer based at 16 Lawson Street in Waltham, discovered by Darragh taking notice of the site on a visit to her hometown.
Competitive Plastics is also one of three recently opened exhibitions planned and administered by Director of Objectspace and CoCA Toi Moroki, Kim Paton, representing the end of a 12-month programme partnership of exhibitions and accompanying public programmes in Ōtautahi with the gallery. Since its reopening in February 2016, Paton's exhibition schedule remains the gallery's most distinguished achievement over the past six years since its reopening in February 2016.
Paton's time at the gallery also concludes with the opening of Tender Brick: The Material Epiphanies of Peter Hawkesby, his attention on clay as an expressive, sculptural material rather than a discipline to be mastered on the potter's wheel. In addition, downstairs in its Ō Papa Ground Floor Gallery, sculptor Liam Krijgsman 's More Than This delivers a deception commentary on consumerism, with the more than welcome surprise that the artist has replicated an 'automated sausage sizzler machine endlessly operating in this space. '
Curated by Heather Galbraith, Competitive Plastics gets to the heart of something fundamental about human behavior in the Western world. Galbraith comments on the detail of Darragh's installation: 'What draws us back to the tactile, the textured, the patterned; the way things sit, droop, bundle, or wrap?' Her reference point thematically is French philosopher Catherine Malabou, whose criticisms and questions for the industrialised world in the 21st century have considered questions about where work and play blur in ways that may problematic. She responds: "'What should we do with our brain?' is above all to visualise the possibility of saying no to an afflicting economic, political, and mediatic culture that celebrates only the triumph of flexibility, [in human behaviour] blessing obedient individuals who have no greater merit than that of knowing how to bow their heads with a smile."
Competitive Plastics also maintains Darragh's practice as within and outside contemporary arts practice in Aoteroa, and certainly, as an experience is certainly about the triumph of found materials, continuing to surprise in their reach and possibilities after more than forty years of making and exhibiting. It is an achievement even more remarkable, when considered within Darragh's uncompromising commitment to continually revealing the qualities of the materials that she works with, their absence of any ambitions for camouflage and her disarming honesty about their point of origin.
As Galbraith observes: 'All materials in Competitive Plastics have been found in op shops, discount stores, industrial supply outfits and brought into conflagration with one and other. Most were originally designed with usability in mind. Monobloc chairs sit alongside mannequin limbs, high heeled shoes and funnels, some are used, others are freshly minted. They are reconsidered, repurposed, upended, stuffed, skewered, wrapped, and layered, with awareness of their material baggage and complicities. The works question our default value systems.'
Darragh's Competitive Plastics has an intuitive colour sensibility and an inescapable attitude, resonating with a blissful presence as joyful as it is questioning and confronting.
DETAILS
Competitive Plastics: Judy Darragh
Curated by Heather Galbraith
CoCA Toi Moroki, 66 Gloucester Street
26 February – 7 May 2022
IMAGE
Judy Darragh, Capital, 2021. Photograph by Samuel Hartnett. Courtesy of Objectspace and CoCA Toi Moroki
Judy Darragh,Choir, . 2021, Photograph by Samuel Hartnett. Courtesy of Objectspace and CoCA Toi Moroki