Reviews
ArtBeat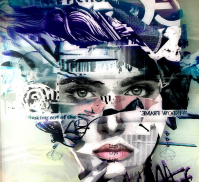 Joel Hart, Dopamine
Charlotte Filipov
As a street-art destination, Christchurch has allowed more than a handful of one liner 'beautiful-woman' murals to pop up over the walls. In a city where street artists do not always seek City Council approval before doing this, it is fair to expect confronting images to appear.
Christchurch's now-very-established street art scene has been almost entirely hand-picked and approved by some institution, implying a certain level of curation. I feel there is an opportunity that has been missed, in many instances, to deliver more substance and meaning. This recurring lack of conceptual thought has allowed Hart to blossom in a landscape of quick-fire decision making and a high level of demand for street art left by slow-moving repair efforts.
Hart's work evokes a certain nostalgia, the gallery in which he recently exhibited, Fiksate, swept up in a whirlwind of excitement in spite of the undeniable presence of this interchangeable anonymous female.
DOPAMINE was Hart's second solo exhibition and (according to the gallery's website), he structured the show to create a network of silent women, gazing across the gallery at one another, the viewer to become entangled in this web of female eyes. The mystery starlets have words printed over their partially obscured faces: Night, Darkness, Sultry, Jealousy, Chaos, Noise; it became immediately difficult to separate the implication of using these words from his subjects' faces.
Hart's approach to his work is labour intensive, breaking away from conventional painting or printmaking. DOPAMINE sees Hart branching out into experimenting with new techniques creating physically layered portraits, using a combination of media to manifest this show. His pop-art inspiration is clear, the playground of faces and their surrounding textures and graphics reference the cultural landscape he is surrounded by.
His listed influences and ideas of death, beauty and graffiti culture are secondary to the overt influences of advertising, and frankly, the historical prevalence of artists treating the female subject as a tool. References to graffiti culture are sterilised via digital intervention. The images seem to miss a fundamental point of this culture; the temporality and fleeting quality, the social function and organic nature. Hart appears as an artist appropriating and collaging his environment to build a representation of a monolithic female subject. The work highlights the harmful, gender-obsessed approaches academics have been criticising the marketing industry and media of for decades, and Hart alone can't be blamed for simply copying what our media and cultural environment perpetuates as beauty. Yet, although very technically considered, the issue stands that Hart has not clearly identified this as a problem.
One requires direction and a voice when moving between the engagements of the 'artist' and the 'designer.' Hart has been unsuccessful in addressing the subject and implications of his paintings and images, or at least, has neglected to acknowledge these women as anything beyond an object. The reoccurring use of these women signposts a failure to consider the reasons behind why they are in magazines and newspapers in the first place. Hart's work in DOPAMINE solidifies and upholds a status quo, a complacency in the way bodies are used in advertising. His work could benefit from a reconsideration of the images he is creating and seek out opportunities to develop a clearer objectivity and 'voice' in his practice.
Postmodernism implies a motivation to break up and change convention around, to deconstruct, to pick apart and to Frankenstein back together. Postmodernism is more than a flat visual clue, it is a
cultural paradigm, defined only by its continual rupturing of boundaries. Postmodern art theory has grown to incorporate wider social implications in the way we create and view artworks; the conduit within which contemporary art sits. This awareness holds one main subject, the viewer, responsible to consider such issues. How are women and their bodies considered and portrayed by artists, curators, patrons and viewers?
Joel Hart, Dopamine, Fiksate Gallery
165 Gloucester Street
22 March – 26 April
IMAGE
Joel Hart, Looking Out of the Window Frame, Mixed Media on Layered Perspex Sheets, 2019