Article
ArtBeat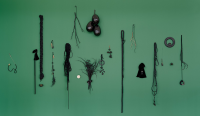 Working with a diverse range of materials that include bronze, fabric and ceramics, Jen Bowmast's When the Veil is Thin, functions simultaneously as an installation, a group of free-standing sculptures or a series of wall-works. The various associations between materials, surfaces, images and their display establish an active relationship for gallery visitors, generating numerous visual conversations with Bowmast's work. Its various elements represent an invitation and question to know more about When the Veil is Thin and what it seeks to represent, and the artist and gallery provide a way into the exhibition through its accompanying texts, yet equally significant is the reality of a direct encounter with the physical presence of Bowmast's objects.
Yet, in the first instance, narratives around the potency of these works as symbols or precious items associated with ancient ceremonial histories seem the most appropriate and initial point of entry, Bowmast's source material for When the Veil is Thin having its origins in ancient and feminine cultures and communities, drawing its symbolism from the Samhain and Yule festivals and Christianity. Some objects seem familiar. There are wreaths, (one in particular reminiscent of Christmas or yuletide) and a large, black circular plinth from Bowmast, hosting a strange jewel, and like the majority of objects in When the Veil is Thin, it possesses a substantial presence all of its own.
And it is the very nature of this encounter that informs the paradox of When the Veil is Thin. In prioritising our attention on Western culture and primeval spirituality, Bowmast's beguiling promises and allusions to ancient rituals also direct our attention to the materiality of her practice. Her skilfully executed works are subjects in themselves, their form, surfaces and materials an encounter with the ideologies of French philosopher, Albert Camus (1913 – 1960), his attention on the immediate and direct experience of life as central to the joy of being human.
As such, When the Veil is Thin is unexpectedly, also about an art gallery as a space for reflection and contemplation, an environment in which objects are held and displayed for such purposes. In When the Veil is Thin, Bowmast positions the artist as shaman, making connections with the past and present, broadly directing attention to the critical role of the artist as creator of objects and images, and their familiarity and unpredictability from ancient times to the present day.
Jen Bowmast
When the Veil is Thin
Christchurch Art Gallery Te Puna o Waiwhetū
Corner Worcester Boulevard/Montreal Street
28 October – 20 February 2022
IMAGE
Jen Bowmast, When the Veil is Thin, installation image