Article
ArtBeat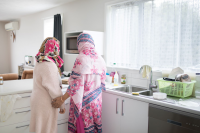 When the 15th March 2019 Mosque attacks happened, Colombian born, Christchurch-based artist Janneth Gil was immediately reminded of memories of her life in Bogotá in the 1980s and 1990s. The United States was then waging a war on drugs in Colombia in armed conflict with drug cartels, with civilians caught in the middle with the cartels against both the USA and the Colombian government. (During this time, drug lord Pablo Escobar (1949 – 1993) attempted to assassinate a politician by bombing a commercial flight he was expected to take, killing all 107 passengers).
Gil says that the events of 15th March were a reminder of the violence of that earlier time for her, but she was also heartened by the response from Christchurch residents and 'the importance of familial and community support and the connections we form with others, and how these significant relationships are imperative for us to be able to confront and rise above adversity.'
Over the past two years Gil has built and maintained a close relationship with the city's Muslim communities, creating and developing a series of projects that respond with affirmation to a greater understanding and tolerance by all communities to others. She aims to make a contribution by encouraging those who see her work to reconsider unconscious biases that lead towards racism and discrimination, thereby encouraging dialogue, inclusivity, and a more informed, empathetic and socially conscious society.
'Through Darkness into Light I primarily wanted to immortalise these tributes as a metaphor for human empathy, solidarity, respect and support, and to emphasise the few good aspects this tragedy brought to our communities. Tributes from the Botanic Gardens and the Al Noor Mosque (Masjid An-Nur) have been used as the raw materials for the creation of paper and photosensitive material in order to produce gum-process prints. Captions and titles for works mentioned reference interviews conducted with collaborators or written material that they wished to share with me for this end use.'
Gil's projects encompass a range of disciplines through photography, works on paper, texts, podcasts and collaborative works with some of the victim's families. She describes the response from Christchurch and its communities as profoundly significant, with discussion about systemic problems that might have contributed to an environment or culture that led to such an atrocity, and the immediate response evident in the expressions of grief and remembrance through the giving and laying of flowers in an impromptu memorial for the victims and their families on the fence line of the Botanic Gardens on Rolleston Avenue.
Gil also worked with The New Zealand Herald, as well as The Press and various international newspapers and a television channel in Singapore, contributing her photographs of the Muslim community. She was also involved in The Widows of Shuda, a New Zealand on Air funded project about four women whose husbands were tragically killed. Working with a team from Plains FM, Radio New Zealand, lead producer Lana Hart, and members of the Muslim community they created a mentoring project of stories from people in podcasts, with commentary and photographs working together, telling the stories of that community and not their own version of their stories. (Listen: Widows of Shuda (rnz.co.nz)
Gil has transferred a message from one widow onto a paper document, transparent with the letters evident as empty spaces that can be looked through with a sense that the message is present, yet also vulnerable, as though it could also disappear, emphasising that this is exactly the point that she wishes to make. 'My fear is that people will forget what they felt on 15th March very quickly. Memories can fade and it is important that we remember.'
Her photograph of the two interior rooms of the Linwood Islamic Centre, share this sense of vulnerability. She observes: ' This is the female area of the Linwood Mosque, here Linda Armstrong became a victim. It is divided into areas for females and males and you have this veil in between. That will have been the view when this happened, her view, and she died just in that port. That is how I came to the idea of photographing it from there and through the veil, but also the chairs, they are like the witness of what happened and also the absence of the men who died there and also that feeling of the darkness and light. In Arabic, Noor means light.'
Gil also says that although New Zealand is a small country it has captured the attention of many internationally. 'We just had a team from Singapore doing a documentary on my work about what communities do after such terrorist attacks in the world. They were very surprised at the way we did what we did and being such a small country we became global. So it resembles the "Black Lives Matter"" movement and the importance of the strength of an idea.'
'As well as Colombia I also lived in the Middle East for a while, and that was also helpful in establishing really good relationships with some of the victims of the Mosque attacks. It was not easy but we just started talking and I realised that they had the same issues with racism that I had. I am from Colombia and people think that Colombia is all about drugs. These are stereotypes that we have to break. We all have work to do.'
'Darkness into Light is a large project and I want it to focus on different areas, especially in its role in community engagement. I want some of the projects to be exhibitions in public galleries where I can show different types of works, including the actual clothing of the victims. I am working on the idea of memory. There are works from the victims themselves or their families, a stain or samples of blood or objects, and that will be another exhibition and I am also making inks and watercolours from the flowers at the Botanic Gardens and printing flowers.'
'I have also created workshops for the Muslim community to help them not to be misrepresented in the media and workshops on how to use photography for positive social change for minorities and immigrants. I want to create a domino effect and work with people who have the same kind of views which is why the whole project is full of many different parts. I don't see it finishing. It is just the start.'
DETAILS
Janneth Gil, Tribute: Darkness into Light
PGgallery192, 192 Bealey Avenue
23 February to 19 March
Tribute Floortalk, Tuesday 2 March, 12pm. Join artists Janneth Gil and Viv Kepes

IMAGES
Janneth Gil in her studio at the Ilam School of Fine Arts. Digital image available in various formats
Janneth Gil, After months of being without family as a new mother and trying to realise her husband's dream of raising their daughter in New Zealand, Neha now has her closest family members with them, her mother, Shafia Begum, and younger brother Faysal. Archival pigment print on Harman by Hahnemuhle Gloss Baryta paper.