Article
ArtBeat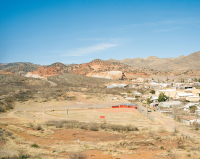 Mitchell Bright's exhibition at the Ilam Campus Gallery, Ibid: In the same place, tangentially references twentieth-century American landscape photography – vast landscapes, landmarks and importantly, precise geographical compositions which emphasise the greatness of 'the American landscape'.
'Ibid' is a word often encountered in academic writing: a term of reference that describes a source of information repeatedly called upon by the author. Far from plagiarising the well-known images by artists such as Ansel Adams, Bright consciously references past examples and creates his own vernacular of American landscape photography. Inferring the tradition of invoking awe in the viewer, Bright composes his images to capture the picturesque – those truly awesome landscapes. However, twentieth-century images of Yosemite National Park or The Grand Canyon – now arguably most frequently seen as postcards – serve not only as a celebration of the natural world but also entrench the historic colonial segregation between what is considered human and what is natural.
Bright's formal references are underpinned by a contemporary concern: the state of our natural world straining under the weight of tourism, growing populations and the climate crisis. While artists like Ansel Adams celebrated purity of nature and 'untouched' environments Bright draws upon the lived-in, tarnished, and soiled landscapes. The artist's style emphasising features of the landscape that are often hidden beyond the frame: roads, housing, detritus.
Bright's photographs embrace the reality of human interventions into previously pristine environments as normalised features of our world. When artists like Adams photographed majestic scenes, they were attempting to communicate the feeling of awe inspired by nature. One hundred years later, Bright has captured these new American landscapes, focussing our attention on the irrevocable impact we have on the landscapes that sustain us.
Bright does not shy away from the realities he experiencedwhile travelling– that his journey surely had the same impact as thousands of other tourists seeking an American landscape experience. Many of us have played the role of tourist in some form or another. Paying for the privilege of visiting geographical landmarks or outdoor adrenalin experiences while also (somewhat) unintentionally contributing to the impact of transport, accommodation, experiences, food and souvenirs, to the degradation of the landscapes that we went to experience in the first place. Bright's photographs hero the landscape that we all hope will remain awe-inspiring under the pressure of this Anthropocene: images acknowledging the impacts of our very human determination to experience the world.

DETAILS
Mitchell Bright, Ibid: In the same place
Ilam Campus Gallery
Fine Arts Lane, off Clyde Road
24 September – 22 October
IMAGE
Mitchell Bright, Untitled ( Ibid: In the same place), 2021, inkjet prints on lustre paper, and shot with 6 x 7 negative film