Reviews
ArtBeat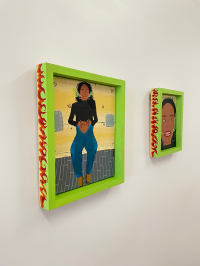 At long last Ōtautahi welcomes Claudia Kogachi (Awaji-Shima, 1995), a talented painter and textile artist picturing domestic scenes and personal narratives from her Eden Terrace studio.
Kogachi's recent works have featured her alongside her mother and obachan (grandmother), poised amidst tumbling rallies of assorted sports. Matisse Blue bodies, locked in conflict or friendly competition, considered the potential for both fondness and friction within mother-daughter relationships. Hot Girls with IBS similarly approaches complex relationship dynamics and perspectives with an awkward yet unapologetic illustrative style and pointed sense of humour.
This exhibition pushes Kogachi's intuitive feel for emotive subtleties, discomfort and decoration in a new but natural direction, looking beyond family connections to foreground friends in an animated host of 'hot girls.' Hot Girls with IBS is a sympathetic yet unsentimental affirmation of her friends' digestive struggles. Kogachi depicts private moments of living with IBS symptoms with a candid and comic intimacy, unabashedly humorous and empoweringly forth-right.
Self-effacing subjects are unidealised, blobby and bright - a new pantheon of uncomfortable idols, resolutely occupying space in the gallery in spite of troubled tummies. Words by Nadine Paredes underscore the artist's enthusiasm for the nuanced and comedic semiotics of individual expression, navigating the associative discourse of the 'hot girl' handle in cartoonish contemporary portraiture.
For the artist-run initiative Hot Lunch, this exhibition marks the end of an era. The creative minds behind the project (Lee Richardson, Liam Krijgsman and Millie Galbraith) had always intended that the gallery should be collaborative and community-orientated, a learning experience for the creators alongside the artists they represent. Lee remarks that artist-run spaces should be reactionary, in-the-moment; it was just as important to know when to bring the project to a close. Now it is time to let some new voices have a say, while the team embarks on new adventures.
Over a two-year run, Hot Lunch has created something unique in the Ōtautahi Arts ecology - room for emerging artists and recent graduates to experiment. Whether as a digital platform, poster-drop series, or a bricks-and-mortar space, the project has become a key part of the reinvention of High Street and a much-loved staple of the local art scene.
Hot Girls with IBS serves as both a memorable introduction, and a perfect closing note; Kogachi's first exhibition in the city is punchy and energetic, full of promise for the future -a vibrant and playful final chapter for Hot Lunch.
DETAILS
Claudia Kogachi
Hot Girls with IBS
Hot Lunch, 227 High Street, Christchurch
6 – 21 August
IMAGE
Claudia Kogachi, Hot Girls with IBS, 2021, installation view. Image courtesy of the artist and Hot Lunch