Article
ArtBeat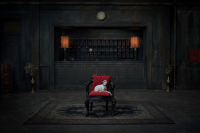 Canterbury Museum's increasingly bold forays into hosting contemporary art are a welcome addition to the scene, and an exceptional example of that is Auckland-based Heather Straka's Isolation Hotel in collaboration with SCAPE.
The immersive experience comes in two parts. Perhaps the most dramatic element is the stage set installation – in part something that has come with Straka's experiences working on the 2020 TV mini-series The Luminaries.
It's a theatrical space meant to evoke a 1930s European hotel lobby that has seen more glamorous days, now dilapidated and dark – an inversion of Wes Anderson's The Grand Budapest Hotel with dashes of Sartre's Huis Clos, Buñuel's The Exterminating Angel, and Samuel Beckett.
It sits in pleasing proximity to the Museum's Paua House attraction – itself a kind of stage set, the relocated and recreated eccentric dwelling of eccentric elderly Bluff couple Fred and Myrtle Flutey.
The public are invited to participate; co-playing guests, taking selfies, projecting a fantasy version of themselves out into the world in a subtle comment on the relationship between social media, existentialism, the imaginary and memory.
Guy Debord's Society of the Spectacle has come to pass in the virtual Benjaminian arcades of Facebook, Twitter, and Instagram.
Surrounding this playful space, Straka's lush, theatrically baroque photographs animate and provide context with their own enigmatic cast of characters – femmes fatales, exotic travellers, eccentrics and derelicts in the same hotel lobby set.
We don't know who they are or why they're here – like an Agatha Christie country house murder mystery. Do they know each other? Are they fleeing something? Is this strange decaying space some kind of sanctuary floating aloof of space and time?
Possible narratives are kept ambiguous and open ended – the viewer is invited to make their own interpretations according to their own fancy, but certain threads assert themselves.
Some of the tableaux are drawn from the models' like experiences and moments of cultural friction or parodies of stereotypes. There is Straka's signature stylised eroticism and playfulness around gender and sexual identity, and pokes at political correctness and cancel culture.
A dominant theme is home and the occupation of liminal spaces – homelessness, MIQ, transience, immigration, and colonialism. In one striking image Straka enacts her own funeral in the manner of Victorian post-mortem photography, cocking a snook at criticism and perhaps a distant echo of Abel Azcona's controversial Death of the Artist performance pieces in 2018.
Isolation Hotel is an extraordinary achievement, and Canterbury Museum will continue to activate the site in different ways with the calendar.
Isolation Hotel: Activities, Entertainment and Events in February.
Guest curator and artist Audrey Baldwin brings Isolation Hotel to life with a unique accompanying programme detailed below and also see: https://www.canterburymuseum.com/whats-on/#?filter=isolation-hotel-events
Friday 4 and Saturday 5 February: Award winning sci-fi writer A. J. Fitzwater as pop-up artist in residence, featuring a lunchtime discussion with Paul Scofield on moa bones and how they play a part in Fitzwater's current work.
Thursday 10 February: Life drawing with artist Hannah Beehre, ticketed evening, $15.00
Sunday 13 February: FIKA and friends response in word to Isolation Hotel (free)
Thursday 17 February: One Night Stand Poetry event curated and MCed by Ray Shipley with Pop up bar by Punky Brewster, R18, $20.00
21 February – 6 March:Immigrant Journeys. Videos screening within the exhibition. A project by the Lady Khadija Trust showcasing immigrants stories, as well as two weekend events led by migrant communities and a discussion on Peace.
DETAILS
Heather Straka, Isolation Hotel
Canterbury Museum, 11 Rolleston Avenue
27 November 2021 – 20 March 2022
IMAGES
Heather Straka, Bitch, Image courtesy of Heather Straka