News
ArtBeat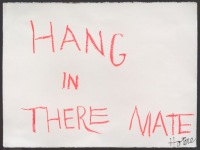 Property owners Roland Logan and Sharon Ng both emphasise that they are just here to save their building at 212 Madras Street. 'The last thing we want to do is hold up the stadium'.
212 Madras Street is the last remaining Edwardian warehouse building in Ōtautahi Christchurch and has been the recipient of several heritage awards over the past decade. Acquired in 2005 by Logan and Ng, for the past sixteen years it has been a multifaceted centre for contemporary art and design in numerous and varied manifestations. On its ground floor, Ng Boutique, a distinct and unique clothing and design store with an integrated gallery space and upstairs, artists' studios and office spaces representing various creative practices, tenanted by designers, architects and artists.
Logan and Ng had first discovered that the site on which their building was located was to become part of the location for a new public stadium, watching the announcement on the evening television news in June 2012. Central government agency CERA (Canterbury Earthquake Regional Authority) had identified the site as key to its ten anchor projects for the recovering city.
However, three days later following this public announcement Logan and Ng received an unanticipated and very welcome letter from CERA's chief executive stating, "the Ng Building was feasible to be incorporated into the stadium design". It represented an assurance from CERA that the building could be accommodated and integrated within the stadium's planning. (A decision at the time that it is worth noting is even more surprising when 70% of then-standing buildings under lockdown in the central city were demolished, among them 151 with heritage status).
Yet, by 2017, this commitment to saving the building had become embedded within a series of contradictory statements from central and local government. An approach to Logan and Ng from LINZ (Land Information New Zealand, handling land titles), stating that they wanted to purchase the Ng Building and the land was later followed by the Christchurch City Council inferring that NG Building could be incorporated into the stadium design.
In April 2020, the Crown announced that Ng Building could not be incorporated, even though plans for the project still depicted its incorporation within its design. Then, in March 2021, a compulsory notice of acquisition was sent to Logan and Ng, and new plans were released which now showed that the Ng Building could not be incorporated. Not surprisingly, writing in The Press at that time, journalist Steven Walton commented that the outcome of this sequence of events 'has had massive implications for its owners, who are now trying to convince the government to save the 115-year-old building by moving it'.
Earthquake strengthened and fully tenanted, Ng Building was among the very first businesses, retail spaces, galleries and a cluster of artists' studio to reopen in the city late in 2011. As one of the few remaining heritage buildings in Ōtautahi in 2021, Logan and Ng are resolute in their determination to ensure that it is saved.
And they are not alone. Prominent among the initial expressions of support for the building's preservation a decade ago is the voice of artist Ralph Hotere (1931 – 2013). A good friend of Roland Logan and Sharon Ng, the artist gifted them "Hang In There Mate" in 2013, with his specific instructions that it be used in the service of protecting the building. Logan recalls: 'Ralph was a strong supporter of the campaign to save the NG Building, he was very sympathetic towards our situation as he had gone through a very similar situation with his studio at Port Chalmers several years earlier. He made and gifted us a work to be used in support of saving the building, and the auction is named after it "Hang in There Mate"
It is one of 50 works of art from artists who are friends of the building supporting its preservation that will be offered for auction 20th May 2021. The auction is being organised on a voluntary basis by a group of friends/artists and people who wish to see the building retained.
Former Ng Boutique manager, Donna Hughes and artist/designer and marketing person for Ng Boutique, Steven Junil Park are managing the auction to raise funds towards saving the building either in its current site or its relocation.
From its opening as Ng Boutique in 2005, Logan and Ng have fostered a strong exhibition programme with senior and emerging New Zealand artists that have taken place in gallery spaces, artists' studios and installations throughout the building. Hughes observes that the exhibition spaces were a progressive development: 'Whilst the gallery spaces were never formalised as such, visitors and artists have consistently come to experience them and the exhibitions as central to Ng Building'.
The programme began in 2005 with a series of changing exhibitions of paintings by Philip Trusttum. The association with him and many other artists has seen a programme as distinct as the clothing and furnishings represented throughout Ng Building. Among the artists are Brooke Georgia, Tim Main, Nathan Pohio, Mary McFarlane, Paul Maysek, Tatyanna Meharry and Nichola Shanley. Indeed, there is, as both Hughes and Park maintain, a definite and overarching vision for all the spaces.
Moreover, following immediately after the February 2011 earthquakes when the heart of the central city was cordoned off and 212 Madras Street bordered the very edge of CERA's boundary line for its demarcated red zone, Ng Boutique was among the very first businesses to reopen. With the Christchurch Art Gallery Te Puna o Waiwhetū 's building occupied at that time by CERA as an operation-centre, the gallery launched its Outer Spaces programme, a series of art in public spaces projects and temporary exhibitions in off-site spaces.
The first floor of Ng Building became central to the Christchurch Art Gallery's Outer Spaces in an exhibitions series that ran from February 2012 to January 2013. Among the prominent local and national artists participating were Julia Morison, Hannah and Aaron Beehre, Miranda Parkes, Jason Greig, Bill Hammond and Michael Parekowhai.
Throughout 2012 the Ng Boutique and its gallery spaces were welcome evidence of the visual arts, its artists, audiences and the wider community of Ōtautahi progressively recovering. Recently returned from the Venice Biennale in 2011, Michael Parekowhai's On First Looking into Chapman's Homer, (a larger than life bull and grand piano sculpture) made a significant contribution to the Outer Spaces programme. Located on a site on Madras Street, Parekowhai's On First Looking into Chapman's Homer attracted more than 50,000 visitors, many among them returning to the central city for the very first time since February 2011.
Hughes recalls that after the earthquakes, many artists lost their studio spaces and the city's galleries were closed. 'People were interested in coming back to the city but they were nervous about what and how it would be. There was a lot of apprehension and when we initially reopened Ng Building at that time they had to come in through the back door as it took quite a while for Madras Street to open. Ng Building was where the arts community came to and the broader community came as well for Michael Parekowhai On First Looking into Chapman's Homer. That was huge. It was very powerful moment.'
In 2012, visitors to Ng Building were entering central city premises that had already been earthquake strengthened. Logan was probably the first property owner in central Christchurch to respond immediately to the earthquakes, strengthening Ng Building to get it up to standard. He recalls: 'Within a day of the first earthquake I was buying steel, hundreds of thousands of dollars of steel were put into the building to strengthen it. There are crossbeam bracing the building and the walls and these were installed after the February earthquake.'
Logan and Ng also maintain that the auction/fundraiser is not anti-stadium. 'It is about saving the building whether this means incorporating it into the stadium's plans or moving it.
Park notes that the artists involved in the auction encompass those who have shown in the gallery spaces both downstairs and upstairs as part of the Christchurch Art Gallery's 2012 exhibition programme, as well as artists exhibiting regularly in the gallery's spaces.
Approximately 50 works will be auctioned and the list of artists includes: Bing Dawe, Emma Fitts, Euan MacLeod, Helen Calder, Jason Greig, Julia Morison, Lonnie Hutchinson, Marie-Louise Brown, Marie Le Lievre, Paul Maysek, Mary McFarlane, Miranda Parkes, Nathan Pohio, Philip Trusttum, Ralph Hotere, Rebecca Harris, Russell Moses and Sam Harrison
In 2021, saving one of the few remaining heritage buildings in the central city still standing in the heart of Ōtautahi that is earthquake resilient makes it difficult to argue against its future. Park maintains that 'saving this historic building from being needlessly demolished when so much has already been lost forever in Christchurch makes it a pristine example of heritage craftsmanship that we will never see again if we lose it.'
IMAGES
212 Madras Street in 1913. Premises of Cotton Brothers Ltd., importers, Christchurch. Alexander Turnbull Library, ref: 1/1-005614-G. Webb, Steffano, 1880-1967: Collection of negatives
Ralph Hotere, "Hang in There Mate,"2013, oil stick on paper
DETAILS
The works will be at NG from Thursday 6th May onwards to view]
Auction 20 May. Doors open 5.30, Auction begins 6.30pm
We have decided we have to ticket to keep our numbers manageable.
Tickets will be available through Eventbrite. $20 + booking fee
Complimentary nibbles and drinks provided by Lizzies Cuisine, The Bone Line and Three Boys Brewery.
The auctioneer is confirmed - Phil McGoldrick.