Article
ArtBeat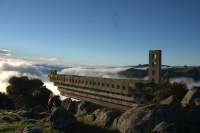 Sculptor and installation artist Grant Wylie describes the objects and materials of his most recent work, Seamaster, as an installation 'in a paddock and a shed on a hill with a view of the ocean'. It opens to the public from mid-October to early November and will be located at 181 Seftons Road, Okains Bay.
Seamaster refines and resolves many of the ideas and threads of Wylie's work from the past fifteen years and in a wider context, belongs to thirty years of an arts practice he describes as sometimes private and independent.
Where did Seamaster come from? Wylie directs attention to D Block at the High Street Project in 2001 as a shift from previous works in which his kinetic sculptures emulated the movement and gestures of the body. He describes D Block as a pivotal shift to the next phase, using cast concrete components and quasi-institutional furniture. The gallery space and objects became an environment that the visitor now shared as a participant through their very presence.
The next stage for Wylie was The Savage, Hardy & associates show in 2003. 'It was the next big step toward where I am now insofar as it introduced notions of cultural exchange to sit alongside institutional exchange. Everything since has been about refining the formal language I started using to diminish the institutional power of iterative formal motifs and maximise the power of cultural exchange.
'The Waka Erewhon, 2006/07, was the next step. It was about developing a Pākehā Pacifican form, one that was distinctly not Māori but was distinctly of this place. The Lands & surveys exhibition in August 2020 at The Welder in Welles Street realised this for me, working with native timbers, materials of nature engaged with and manipulated by hand. Seamaster uses these forms to imagine colonial alternatives and what ifs. It parodies tropes of the heroic quest that colour our colonial identity'.
DETAILS
Grant Wylie, Seamaster
181 Seftons Road, Okains Bay
23-25 and 30-31 October, 6-7 November and Friday 12 November, 10am – 3pm
Preview: Friday, 22 October, 5pm – 8pm Covid-19 restrictions permitting)
For additional context and to make the most of the trip, it is suggested that travellers also take the opportunity to visit the Okains Bay Museum and St Luke's Anglican Church, Little Akaloa, which features the artwork of J. H. Menzies (en route via Chorlton). It is my intention to create a Facebook event that may serve as a point of contact to facilitate ride-sharing.
IMAGE
Grant Wylie, Erewhon Cloud,foundation study, craft .04, 2006