Article
ArtBeat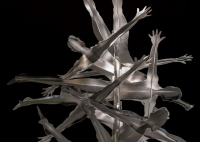 Graham Bennett: Seeking a Balance.
Graham Bennett is an artist with a national and international reputation and a conspicuously visible presence in Ōtautahi Christchurch. Among his most well-known public works are Tribute to Firefighters 2002, in Kilmore Street, (a memorial to fighters internationally, crafted from steel girders from the former World Trade Centre), and arguably the central city's most prominent public sculpture, Reasons for Voyaging, 2003, welcoming visitors every day to the Christchurch Art Gallery Te Puna o Waiwhetū in Montreal Street
Bennett's art is also the subject of Seeking a Balance, a survey exhibition at the public gallery that brings together 33 years of work, beginning with Parameters, a work from his first exhibition at the Robert McDougall Art Gallery in 1987, and his most recent work, The Coracle of the Deceived, 2020 a digitally printed sculpture and response to Hieronymus Bosch's painting, Ship of Fools, 1490 – 1500.
Bennett graduated from the University of Canterbury School of Fine Arts in 1967, teaching in Christchurch until 1976, prior to living and working in London, Spain, and Sydney, and returning to Christchurch in 1981, lecturing until 2000 at CPIT School of Art and Design (now Ara) and refining his practice as a sculptor.

A visit to Seeking a Balance begins with Parameters, 1987, a wall sculpture in which Bennett broadened his practice in large scale three-dimensional works with attention upon geometric, abstract forms and the nuances of his materials. Parameters also anticipates Bennett's growing interest in structures, realised as geometric 'things,' within the natural environment, raising questions about our impact upon planet earth. Curator of Seeking a Balance, Felicity Milburn observes that Bennett's practice represents a really thoughtful commentary on 'the deterioration of our rivers, lakes and oceans.'
The notion of time and how much is left for us is an idea connecting many of Bennett's works. Sea/Sky/Stone, 1991 was a 40 metre length sculpture of oxidised steel and reflective glass installed in three outdoor locations: Nelson on Boulder Bank, the Greymouth flood wall and Archery Lawn in the Botanic Gardens. It reflected the figures of those looking at it, placing them in the landscape. Bennett recalls: 'I can see myself here in the landscape and looking back I can see what we have done in the landscape. I am in there as is anybody else who is viewing it. At that stage I came to a realisation of the speed with which we had rapidly destroyed our lands. '
Consisting of delicate towers on interlocking bases topped with small bronze crucibles Bennett's Squaring the Circle, 2006, is a sculpture that represents one quarter of a circle and the absence of its whole. '[I was] thinking of a clock and the time that we have got and haven't got and how we measure what we measure. I tried to make the work fragile and put it together in the simplest way like tin toys with little tabs. The bronze cups [at the top] were filled with salt water from Nelson which I let evaporate.'
The layered narratives and questions Bennett's practice highlights are centred upon the necessity to address our attitudes and behaviours, and inevitably this has influenced his reengagement with the presence of the human figure in his work. Push the Sky Away, 2015, began as a series of scales in which all sorts of materials (for example; coal, gold, milk powder, oil) were being weighed. Bennett says that initially, 'it seemed that these materials were about the issues, but the real issue is us.'
'I had an artist's residency in Seoul in 2012 and made a sculpture Tipping Point which was exhibited in Hangaram Square. It cast a shadow on the pavement which I really liked. I documented the shadows across the course of a day and made the Heavy Shadows series. I started to think I could take the idea of the multiple figures further, like T S Elliot's the hollow man, or the shiny man, or the man that is not thinking. In Push the Sky Away while the figures turn in the wind they seem disconnected from the world and the environment – the land below and sky above. These figures appear in a number of other works.'
Bennett's most recent sculpture is The Coracle of the Deceived. 'I wanted something that would represent a future generation of young people and the predicament that they may well be in'. A sculpture based on Bosch's figures in a shaky boat and all at sea, The Coracle of the Deceived has been created with the latest technology in 3D printing. 'In addition to current models I recruited a number of young New Zealanders of a range of ethnicities to pose in a booth set up with 350 cameras all in sync, there were cameras on the floor and cameras above. I had a small flexible doll and planned positions for each figure based on the Bosch painting. The figures were printed in Canada from enormous files.'
'The figures are on an improbable boat that may never float so they are really in a predicament. Bosch depicts a person holding a branch and my sculpture has a piece of dead Manuka. It is almost like Noah's Ark, taking a bit of tree with you. It also includes a useless "sextant" and perhaps computer or tablet, and headphones, blindfolds and a covid mask.'
'In Bosch's painting they are all fools, mostly drunk, but the expression I want the young people floating along to convey is bewildered, sort of lost and wondering what they have been left with. They have a "were" of what's left of an "is" and a precarious "will be."
DETAILS
Graham Bennett: Seeking a Balance
Christchurch Art Gallery Te Puna o Waiwhetū
Corner Worcester Boulevard and Montreal Street
31 October 2020 – 21 February 2021
IMAGES
Graham Bennett The Coracle of the Deceived, Printed polymer (resin), bamboo, brass, stainless steel wire, magnets, wood, glass. Courtesy of the artist.
Graham Bennett Push the Sky 2015 (detail). Steel, stainless steel, bearings (wind responsive), granodiorite stone. Courtesy of the artist and The Diversion Gallery, Picton