Reviews
ArtBeat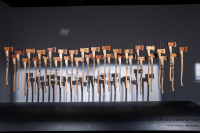 AXIS + AXES is the second of two survey exhibitions from sculptor/printmaker Graham Bennett. Its predecessor, Seeking a Balance was at the Christchurch Art Gallery Te Puna o Waiwhetū from October 2020 to February 2021. Where that exhibition delivered the anticipated art historical canon about Bennett's art, tracing his practice from the mixed-media, abstract geometric wall-work, Parameters, 1987 to the more figurative, Push the Sky Away, 2015, its certainty around the artist's practice and its evolution is never in doubt, Bennett's overriding narrative and concern, our ill-informed relationship with planet earth.
The Canterbury Museum adds significantly to that particular narrative, yet it also does something else. AXIS + AXIS has other things to say about Bennett's practice and this is all to its advantage.
In the first instance, Bennett is not alone. Rather, in AXIS + AXES he collaborates. The exhibition includes a tapestry by artist weaver, Marilyn Menzies, A Matter of Degree. The tapestry is her response to Bennett's work of the same name and in the skill of its making, also serves as a partnership and agreement between artists. Similarly, there are personal responses from Bennett in the selection of works, the artist quoting a favourite poet, Allen Curnow, and lines from his verse play The Axe, 1948. Installed in a series of rows, beneath 33 wooden axes in pine and native timber, Bennett's Dispute quotes Curnow's poem, a warning about the realities and legacies of colonialism.
In addition, AXIS + AXES gives due attention to Bennett's association with Canterbury Museum's Emeritus curator Roger Fyfe, Senior Curator of Anthropology from the 1990s. Fyfe made it possible for Bennett to access William Ockleford Oldman's (1879 – 1949) collection of 18th and 19th century Pacific artefacts; ceremonial paddles, Māori toanga and Mantaia adzes.
The inclusion and influence of these objects is of enormous significance, revealing that Pacific artefacts have been essential to Bennett's art and he similarly acknowledges this in the gallery's wall-text: 'the privilege of close contact with an artefact… is to have a private conversation, across time, with the maker and to pay tribute to their skill, energy and application'.
Bennett's respect for these objects is tangible and heartfelt, yet seeing them on display, the questions raised by their present as appropriated artefacts, informing the work of the artist, they also become distinct as an idea central to the experience of the exhibition.
How to respond? AXIS+ AXES is simultaneously inspired and confronting. Any engagement with it cannot help but confirm our respect for all the artists represented, and in doing so, this further heightens an awareness of the nature of 19th colonialism and its tangible legacy today. AXIS + AXES is a challenging and timely encounter.
DETAILS
Graham Bennett
AXIS + AXES
Canterbury Museum, Rolleston Avenue, Christchurch
28 May to 25 October
IMAGES
Graham Bennett, AXIS + AXES, installation view. Photograph, Johannes van Kan
Graham Bennett,

Disrupt

, 2021, Thirty-three machine-shaped wooden axes, pine and native timbers. Photograph by Johannes van Kan. Collection of the Canterbury Museum. (Canterbury Museum)