Article
ArtBeat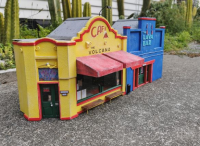 Mike Beer (aka Ghost Cat) arrived in Ōtautahi in 2007 from Birmingham, England, a carpenter by trade who had also been 'doing art' as far back as he can remember. A downturn in the economy saw him retrain as an arborist, prior to having that moment when he thought: 'Where am I going and what the hell am I doing with my life?' Coincidently a props technician position came up at The Court Theatre and he made the decision he was going to get the job. Thinking outside the box, for his CV he made a giant tombstone, boldly carving "The Court Theatre" into it and placing his CV into the mouth of the skull that also adorned the headstone. 'It got me the job and I was doing things like making beating hearts and goblets for Hamlet. It was very cool.'
Yet, conscious that he was still doing other people's work he started his own business, The Monster Machine, making miniature VHS video cases for the American market that became seriously popular. 'I managed to get a tape to actor Robert Englund who plays Freddie Krueger and I have a picture of him holding it. That was huge for me.'
'It was all about nostalgia, but after three years a friend of mine took over The Monster Machine. I could feel myself going in a different direction and that is why I am at the point of where I am now.'
Ghost Cat has his first solo exhibition at street art and urban contemporary gallery, Fiksate in Sydenham, opening in April. So is Ghost Cat a street artist? 'I have been, but I also do stuff that isn't graffiti related, usually little sculptures.'
There are a grouping of his sculptures, the "Do Not Press" buttons, stealthily placed in the central city near Tūranga and around The Crossing. 'I love graffiti and I love the urban and playing a game in town is interesting. When I first put the "Do Not Press" signs up, people would post about them. "Have you seen these in town?" Press the button and there is chilli sauce inside them [that comes out]. It is being playful in a way that isn't offensive.'
'My work is about connections. It is about people literally reacting to it and again, that started with The Monster Mailman. I love the nostalgic response my work generates. When I made The Volcano cafe in Lyttelton, if you read the comments, it was about people's memories: "Oh I used to wash dishes there," and "I took my mother-in-law here every Sunday." It is just many memories and that to me is really special. To get that out of a piece of art means everything to me and it does to other people as well. I am hoping that because everything I have made is from Christchurch that people who haven't seen it will want to go and see where it is located.
Ghost Cat's sculptures are also in the Canterbury Museum's Quake City and its "Lost Christchurch" programme of building, recreating a miniature of the Canterbury Jockey Club, formerly at 128 Oxford Terrace.
The Fiksate exhibition is Shadow Town. Street art historian Reuben Woods came up with the title. 'The exhibition is about parts of Christchurch that have been affected or don't exist anymore since the earthquakes. People have used those buildings and spaces to create art. When you take to the city by foot it is amazing when you realise what you don't see when you drive through. There are lots of buildings affected by the earthquake with beautiful murals on them. I am bringing chunks of that from everywhere around the city together'.
'Modern buildings serve a purpose but they don't interest me. They don't have souls. I wouldn't recreate something that was clean and modern. Rather, it is something that sits there and says "I have been through a million things and I have a million stories to tell".
DETAILS
Ghost Cat, Shadow Town
Fiksate, 4 Hawdon Street, Sydenham
9 April – 8 May
IMAGES
Ghost Cat, The Volcano and The Lava Bar, custom board and mixed media
Ghost Cat, Church Door, 2020, custom board and mixed media