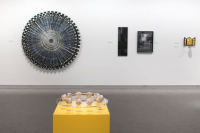 In 2019 a survey exhibition at the Auckland Art GalleryToi o Tāmaki of feminist art activists, Guerilla Girls, led Wellington-based writer, Anna Knox to reflect upon and research the status of women artists in Aotearoa within the context of their male counterparts.
Published online in The Spinoff, Knox pre-empted her commentary, acknowledging the questionable validity of statistics in general, but she discovered: Male artists in Aotearoa have 30% more opportunities to exhibit in solo exhibitions in public galleries than females. Women artists are still under represented in dealer galleries, especially by male dealers. From 2009 to mid-2017, the Chartwell Trust acquired 392 works for its collection;74% by male artists and 25% by female artists. Art + Object's auction sales by male artists in 2018 totalled $21,855,668 while sales by female artists were $3,445,427. And finally - along with Rotorua, Auckland had the worst ratio out of the 14 public galleries Knox surveyed at 29% female to 71% male solo exhibitors. https://thespinoff.co.nz/art/30-09-2019/gender-bias-and-art-in-aotearoa-a-spinoff-survey-reveals-the-harsh-reality/
Now in its fifth year at the Ashburton Art Gallery, manager and curator, Shirin Khosraviani maintains that the establishment of the Zonta Ashburton Female Art Award (ZAFAA) in 2017 was conceived through her awareness that 'one of the major challenges facing female artists is the ability to secure solo exhibitions in public galleries'.
Khosraviani was appointed manager/curator of the gallery in 2011 and remembers that as an art award for schools and students, the Zonta Youth Art Award, (then twelve years of age) needed to be reviewed. 'There was also discussion about the fit of the award within the ethos of Zonta, an organisation whose focus is solely on the empowerment of women worldwide through advocacy. In 2015 discussions began between the Ashburton Art Gallery and Zonta about reshaping it to better suit the needs of Zonta, the gallery and our wider creative community'.
'The Ashburton Art Gallery has long had an interest in supporting women in the art sector. We are female-led and were keen to see an art award that truly elevated the station of emerging and mid-career female artists. The first ZAFAA was held in 2017 and it is held in March every year to coincide with International Woman's Day on 8 March. The awards align well with Zonta and their aims and outcomes, which means we have the support of a respected local organisation at our side. It is a partnership that both parties are proud of and to honour the origins of the awards we have retained the youth element by having the Young Generation section open to artists between 16-20 years in age'.
'The award's strength is in the opportunities it provides for career development. From the outset, we were determined that the awards would have a selection process, a panel of judges and prizes which elevated the practice of artists'.
'We wanted the prizes to be more than a cash reward and included the idea of a solo exhibition for the premier winner and that is unique. It requires artists to think about their arts practice and not just the production of one work for an award exhibition. This lends itself well to artists who take their practice seriously and hope to carve sustainable careers in the arts'.
'I think the art sector in Aotearoa is becoming more and more aware of the genuine support female artists need. We identified early on that the opportunity of a solo exhibition at a public art gallery was an important part of the equation if we were truly hoping to empower female artists. It wasn't just about the prize money, but about the opportunity for more exposure and the chance to develop a larger and wider body of work' .
From its inauguration in 2017 the ZAFAA has developed into a significant art award for many reasons. It is the only designated annual visual arts award for women artists in Aotearoa and increasingly, attracting submissions from artists throughout Waitaha Canterbury. As Khosraviani also acknowledges, 'as a survey-of-sorts for contemporary art by women in Canterbury, it's been thrilling to watch it grow and take hold'. In 2021, the award exhibition is also complemented in the gallery's exhibition spaces by the inclusion of an installation, Chromasill by Janna van Hasselt, the recipient of the 2020 award.
Khosraviani comments that contributing to the importance of the awards is the output of the winners following their win. 'Past premier winners have gone on to receive residencies, dealer representation, public commissions and more exhibitions. Of course, I'm not suggesting that these are solely the results of our award, but I'd like to think that the calibre of the awards results in more exposure for artists and aids in the growth of careers'.
'The issue of gender bias in the arts requires meaningful attention. I don't think our one award show resolves everything, but it highlights the issue for our team and our governance body. It brings it to the forefront of our thinking around our exhibitions and public programmes and events. How can we continue to be inclusive and more representational of our diverse communities'?
Previous winners of the ZAFAA include Fiona van Oyen, 2017, Emma Fitts, 2018, Melissa Macleod, 2019 and Jacquelyn Greenbank in 2021. The selection panel this year consisted of Sarah McClintock, curator and collection manager at The Suter Art Gallery Te Aratoi o Whakatū in Nelson, Lydia Baxendell, Kaitiaki Taonga Toi, art collections curator at the University of Canterbury and Cheryl Lucas, senior ceramic artist and 2019 Creative New Zealand Craft/Object Fellowship recipient.
Khosraviani notes that the majority of artists who are currently making submissions for the award are from Christchurch. 'We encourage all artists who qualify to enter but there is now a cluster of emerging and mid-career artists working in Ōtautahi highly motivated to take part. The strength of the finalists is based on their ability to put forth their best work and be able to adequately document and write about it as well. These are essential skills for any artist moving forward in their career'.
'I would love to see the prize money for the awards increased so that funds to support the creation of new work are more substantial for artists. This relies heavily on generous sponsorship and we have been very fortunate to have fantastic support through Zonta and their pool of sponsors thus far'.
'I'm also keen to see what more we can do for the Young Generation category in terms of scholarships or further opportunities to pursue art and art making. It is good for us to focus on the word 'empowerment' and calibrate ourselves and the awards with that word'.
'I would also love to see ZAFAA become a national award. We are restricted in size and our resources to facilitate that just yet, but seeing other Zonta clubs involved with their local art galleries in this way would be fruitful. Anything that we can do collectively to raise the profile of female artists gets my support!'
DETAILS
The Zonta Ashburton Female Art Award 2021
Ashburton Art Gallery, West Street, Ashburton
6 March – 6 April

IMAGES
Premier winner: Jacquelyn Greenbank, As good as ten mothers(detail), 2020, carved bowling ball with harakeke, photograph: courtesy of the artist
ZAFAA 2021, installation from left: Mandy Joass, Whakaroa (expansion and delay), 2021, recycled aluminium Venetian blinds, foreground, Jacquelyn Greenbank, As good as ten mothers, Kate Rivers, Patch – Waitaha Canterbury Plains, 2020, monoprint, drypoint and collograph print on silk paper, Nicola Thorne, Helen Chambers: Naturalist, 2020, archival pigment ink on photorag paper, Lisa Patterson, Flare Up, 2020, carved, gessoed, painted and gilded (24K leaf) oak, brass and beeswax candles. Photograph: Shirin Khosraviani