Putting Ngāi Tahu's Footprint back on Te Waipounamu - Kā Huru Manu Ngāi Tahu Cultural Mapping Project
Mon 11 Mar 2019, 09:00 am
Sun 28 Apr 2019, 08:00 pm
Te Pito Huarewa/Southbase Gallery, Tūranga.
60 Cathedral Square
Christchurch
Exhibitions, Maori Art, Canterbury Region, Otago Region
Wheelchair access, Accessible toilets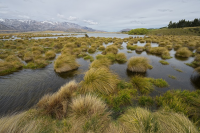 Kā Huru Manu (Ngāi Tahu Cultural Mapping Project)
Te Pito Huarewa/Southbase Gallery, Tūranga.
Tūranga's gallery in the central city library opened its second exhibition in January, Kā Huru Manu.
It is the immediate outcome of almost 40 years of research and discovery by Ngāi Tahu identifying and mapping and the traditional Māori place names of Te Waipounamu (South Island). The exhibition of the project at Tūranga includes hands-on activities and original historical documents, 19th century letters and notebooks, providing an informative background to reasons for the exhibition and the website's significance (see: http://www.kahurumanu.co.nz/). Mapping the location of 5,000 place-names in Māori, for many visitors to the gallery, it will be like seeing the landscape of Te Waipounamu for the very first time.
Te Rūnanga o Ngāi Tahu Archives Manager, Takerei Norton describes the project as 'establishing a foundation that the next generation will work on.' He says that for him it began almost ten years ago when he was working for the Ngāi Tahu environment team assisting Papatipu Rūnaka to protect sites of cultural significance. 'One of the issues that I had was that I didn't really know where the sites were. So a small group of kaumātua (elders) decided to begin mapping sites on our tribal Geographical Information System (GIS) using their private collections. Eventually the project grew to cover the entire Ngāi Tahu rohe (area). What I came to realise was that they always wanted to undertake a project of this nature but never had the resources or technology to do so, and this was the best avenue to realise this long-held aspiration.'
'In that sense it is a truly inter-generational project, stretching back to the work of these kaumātua and the Ngaitahu Maori Trust Board preparing evidence for the Waitangi Tribunal in the 1980s. Although we have mapped about 5,000 traditional Māori place-names, this shouldn't be seen as nearing the finishing line, but instead establishing the foundation for future generations to build upon.'
'Generally speaking our people have used published resources written by Pākehā historians, but where possible we have gone back to the original Ngāi Tahu information sources, with many of these on public display for the very first time.' Norton mentions Johannes Andersen's 1927 publication "Place-Names of Banks Peninsula" as a prime example. Andersen worked for the Department of Lands and Survey and collected Māori place names, not by travelling throughout Te Waipounamu, but getting others to do so. 'In 1908 Henry Dawson, the local postmaster at Akaroa, sent Andersen a 10-page list of Māori place-names for Banks Peninsula and the most detailed map of Māori place-names in Akaroa Harbour drawn by well-known Ngāi Tahu leader Teone Taare Tikao. This information was used by Andersen in his book, but we only rediscovered this material a few years ago in Andersen's personal papers at the Auckland War Memorial Museum. While there we also found two other maps that weren't previously known about. All of this information is now on public display for the first time in our exhibition, and it is great that we are able to help bring these maps back to life.'
Other maps on display include a map of the Māori place-names for Christchurch waterways, a map of the place-names of the Waitaki River, and a map of Māori place-names from Central Otago to the Rakaia River drawn in 1898 from information provided by well-known Ngāi Tahu leader Rāwiri Te Maire. 'This project is as much about putting our footprint back on Te Waipounamu. Our traditional place-names have been obliterated from the official maps of New Zealand, and Kā Huru Manu is about reasserting our place-names back over the landscape and making this knowledge more available to all New Zealanders.'
Kā Huru Manu (Ngāi Tahu Cultural Mapping Project)
Te Pito Huarewa/Southbase Gallery, Tūranga.
60 Cathedral Square
Until 28 April
IMAGES
Ōtūroro is the Māori name for Lake Heron located at Ōtūwharekai (Ashburton Lakes). This was one of the many traditional Māori place-names recorded by Ngāi Tahu leader Rāwiri Te Maire in 1898. Te Rūnanga o Ngāi Tahu Collection, Ngāi Tahu Archive, 2014-103