Article
ArtBeat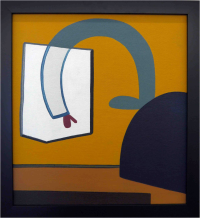 Graduating with honours from the Otago School of Art in 1973 and studying at Exeter College of Art in England in the early 1970s, Eion Stevens sustained a resolute commitment to painting throughout his life. Everyone who spent time with him will have firmly etched in their memory, their experience of his work and his presence. His paintings and personality were inseparable.
My memories of Eion are predominantly from my time at CoCA, visiting him at home to select works for solo or group exhibitions and catching up with him briefly on his visits to the gallery. He was a regular exhibitor in the gallery's annual award exhibition, the CoCA /Anthony Harper Award for Contemporary Art. It filled the gallery spaces upstairs and I have this particular memory of Eion's diminutively, scaled works, (around 50cm x 40cm) in the expansive Mair Gallery, an exhibition space suited to large-scale works, yet his modestly scaled paintings commanded prime attention.
The succinct economy and authority of his paintings was metaphorically Eion's weapon of choice, his concise figurative paintings outwardly proposing that the subjects in his work could be immediately grasped. Yet, this was far from their reality. Even the one-word/ short phrase sentences that titled Eion's paintings were in on the act, representing a point of entry to their open-ended possibilities, probing and questioning.
There is an overwhelming sadness about Eion's death. He was a painter whose early success in the late 1970s should have continued to blossom into the 1980s and 1990s, as figurative post-modernism flourished, but it didn't happen. In retrospect, this is not a surprise. Eion's humour, irony and observations on life were deeply and sincerely felt, and as such, he leaves all of us with the evidence and confirmation of a rich and exceptional arts practice.
IMAGE
Eion Stevens, Pick Pocket, oil on board