Article
ArtBeat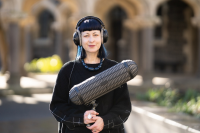 Dr. Jo Burzynska was one of four artists in 2021 confirmed as artist-in-residence over a period of twelve weeks in The Arts Centre Te Matatiki Toi Ora from May to July. (The other three artists confirmed in the first round of this new residency programme were visual artist, Ana Iti, (Te Rawara) writer and playwright, Claudio Jardine and playwright, essayist and documentary maker, Julie Hill).
How did multimedia artist, researcher and writer, Burzynska allocate her time in Ōtautahi over her three-month residency? With an arts practice that encompasses performance, sound recordings and experimental music performance, as well as multisensory installations, her practice encompasses a range of projects that actively engaged with the city's residents.
Also recognised as a prominent wine writer, being able to bring together the breadth and shared territories of her arts practice are best summarised as "multisensory," bringing together 'sound, taste, touch and scents,' through works that directly encourage public engagement. Her research has seen her collaborate with psychologists and sensory scientists, her commitment to highlighting the comprehensive nature and potential of our senses improving our means to navigate and engage with greater awareness of our world and its environment. In a wider content, Burzynska's practice asserts that our comprehensive engagement with our senses is a means for 'contemplative aesthetic explorations of connections between people and place.'
As an artist who previously made works responding to the changing environments of Ōtautahi during the earthquakes and their aftermath, Burzynska sought to re-engage with the city's current unique phase of urban transformation after recently returning from four years overseas. Her exhibition What might we find when we stop looking? was also the title and question for a series of walks through Ōtautahi, navigating its streets and public spaces through our non-visual senses. In her exhibition at the Arts Centre, Burzynska details her contributing works as 'interactive multisensory installations that can be heard, smelled, touched and tasted. Revealing what could remain overlooked on the well-trodden paths of our visually dominated society these works reflect, remap and re-imagine the city, encouraging different connections with our urban environment.'
Describing the background to What might we find when we stop looking? through the various activities she undertook on her street walks; recording sounds, foraging wild foods and collecting materials used for their textures and distilled for their aromas,
What might we find when we stop looking? also led to her development of a new method of creative enquiry, which she has named, sensuous psychogeography. She describes it as… 'a playful exploration of urban space that redirects pedestrians away from well-trodden paths to alter awareness of their environments. Some of these walks were made alone, but many were with others from varied backgrounds whose responses inform the works. These include members of the public, the blind and low vision community, and fields of urban ecology and planning, architecture and foraging. The exhibition's Nurturing Quarter is a collaborative work with forager Peter Langlands and chef Alex Davies, and Temporal Quarter, with the composer/musician and urban planning academic Roy Montgomery.'
DETAILS
Jo Burzynska, What Might We Find When We Stop Looking? 17 - 29 May
Pūmanawa Gallery, Boys' High Building, The Arts Centre Te Matatiki Toi Ora,
4 Worcester Boulevard, Christchurch
11am-5pm every day
Artist talk: Date to be confirmed
This project was undertaken during The Arts Centre Christchurch's 2021 Arts Four Creative Residency Programme, supported by Creative New Zealand and Stout Trust and proudly managed by Perpetual Guardian.
IMAGES
Jo Burzynska, artist-in-residence, May – July 2021, The Arts Centre Te Matatiki Toi Ora